A passionate golfer wants a perfect cart bag for protecting golf gears. Prosimmon tour cart golf bag is one of the best gear for that player. This cart bag is featured-rich and satisfies your needs. You can keep all your golfing stufforganized using it.
However, you may feel puzzled before buying this cart bag due to the plenty of options out there. Here we will help you out to make things easier. We have described in detail about this best rated cart bag in the Prosimmon tour 14 way cart golf bag review. Take a look to comprehend this best golf cart bag.
Are You In A Hurry? Then Get The Prosimmon tour 14 way cart golf bag now:
Prosimmon Tour 14 Way Cart Golf Bag
Plenty of zippered pockets to keep the stuff safely

Separate slots for a full 14-set of clubs

Standard design and having casual look

Lightweight and easy to carry anywhere

Best value for the money
Prosimmon Tour 14 Way Cart Golf Bag Review
Since technology is advancing day by day, there is an enormous change that is noticeable in golf sport. Prosimmon brand is one of the best manufacturers that produce specialized golf equipment to improve your game. They include innovative design with premium components that lead to high performance. This tour 12 Way cart golf bag is not indifferent. You will get great value for the price.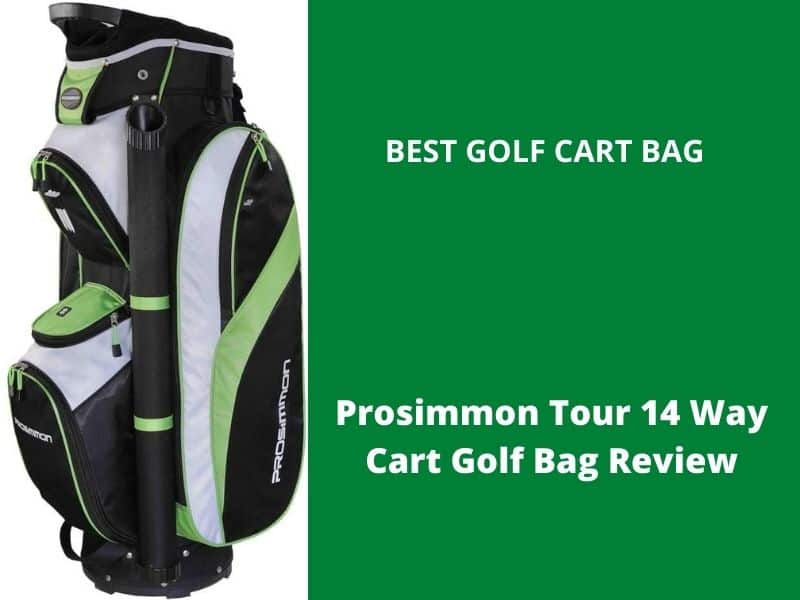 Standard Design
Typically, tour golf cart bags come with a luxurious appearance. This Prosimmon cart bag is able to satisfy your expectations. It is a men's golf cart bag with a standard design. Actually, it is made for those golfers who want a modern design at an affordable price.
The cart golf bag is equipped with nylon material that is light as well as durable. It has a water-resistant layer to withstand light drizzle and keep your stuff dry on the course. However, there is plenty of space suitable for both cart and traveling. You can get this cart bag in four different colors and all of the color schemes will match your style.
Lightweight Cart Bag
Typically, most cart bags tend to be heavy because of their build but this Prosimmon tour 14 way cart bag is extremely lightweight weighing only 5.3 lbs. The weight is very lightweight compared to other cart bags. It also has a lightweight frame and at the same time, it is durable enough to protect your precious golf clubs during storing. Well, the build quality is decent for the price.
The cart bag has a compact design that can comfortably carry in a travel cover. Further, it has a padded shoulder strap for easy carrying. It is helpful when you are walking through the golf course. It also has a plastic handle for lifting the cart bag but it is placed wrongly. If you keep the woods in the tubes near the handle, it will prohibit removing the irons easily.
A molded base is featured on the bottom of the cart bag that makes it handy to stand on the surface. If you balance it nicely, the bag can stand without support. Moreover, it prevents overspills on the wet surfaces, so your stuff will remain safe. Maintaining and cleaning the golf bag is effortless and stays in good condition for a long time.
14 Way Dividers
The 14 -way cart bag is designed for traveling. In this bag every golf club has its own slot. When you keep clubs on a specific slot, they won't rattle with each other and will remain protected. You can keep your clubs organized with this 14 way cart bag. To get detail organizing procedures view this post.
You can keep 14 full-length dividers where shorter clubs are placed in the front, and the longest clubs take the back. Divider slot is designed with durable nylon lining that keeps the clubs in place. The slots are big enough to keep oversize golf grips and they easily go down. If your clubs have large heads, this cart bag will be a perfect option. You can load and unload the clubs with ease.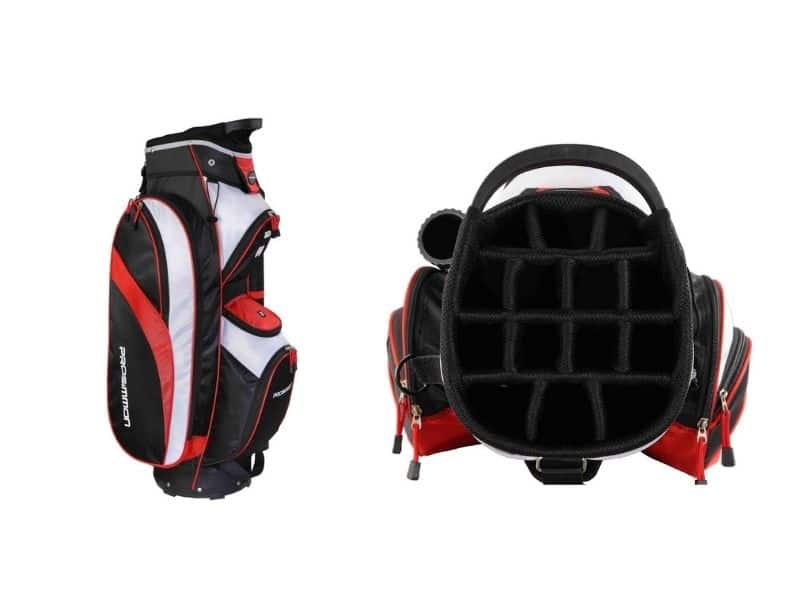 One Separate Putter Holder
The features of Prosimmon makes it the best tour cart bag. The most attractive feature is the external putter holder where you keep a full length club. It easily accommodates an oversize grip of the club. You can easily switch one putter to another and rest the current putter on the outside slot.
We found this feature very handy while playing intensive golf sessions.
Moreover, some golfers use the external holder to keep an umbrella. If you want, you can do so. A regular size umbrella will fit into it. This additional feature lets you be ready for your game. Whether it is raining, you can quickly access the umbrella and save your accessories.
Additional Pockets
Prosimmon 14 way golf cart bag is the best choice for storage. There you can find plenty of zippered pockets to keep your golfing stuff. For example:
1 deep ball pocket
1 small accessory/tee pocket
1 tur lined valuable pocket
2 full length side pockets
1 insulated drinks pocket
As you can see, there are many pockets that are suitable to store your necessary items like extra golf balls, tees, etc. The full length side pockets are great to keep clothes and golf shoes. The velour lined valuable pocket is handy and safe to keep your mobile or keys.
The insulated drinks pockets are very helpful. On a sunny day, you can take cold drinks with ice and snacks. The zippers work well, and they can run smoothly. Gloves and towels are also necessary golf equipment. They need to be placed apparently so that you can access them quickly. Here you can find a velcro strap for gloves and a ring for a towel. Overall, the storage is well-designed for a golfer.
Value For Money
Tour cart bags have an expensive price tag. So many golfers skip them. But Prosimmon tour cart bags offer many outstanding features at a reasonable price point. The affordable price and features have a great combination that makes it the best bag in the market. It is designed for those golfers who have a tight budget.
In terms of design and storage features, the bag is no less than premium bags out there. Having the best loads makes many differences. For instance, you can keep your clubs and other equipment safe, scratch-free, and damage-free. Your full set of clubs will be in good condition for a longer period.
Pros & Cons of Prosimmon Tour Golf Cart Bag
Pros
Features separate slots for a full 14-set of clubs.
Plenty of zippered pockets to keep the stuff safely
Lightweight and easy to carry anywhere.
Standard design for a casual look.
Reasonable price that can afford by any golfer.
Prevent damage and stored in a good condition
Cons
The bottom of the external putter holder is clumsy
The color of the bag fades soon.
Benefits of Choosing Prosimmon 14 way Cart Bag
The features of the Prosimmon cart bag are impressive. You will have a lot of benefits. For example,
Organize your 14-full length dividers on the cart bag and protect them from external damage. The bag keeps the clubs separate and organized.
You will have multiple zippered pockets with a secure locking mechanism. You can store anything of your golf accessories. The locking mechanism ensures security of your valuable stuff and prevents falling on the course.
If you want to keep your putter separately from other clubs, then this cart bag is for you. Many want to keep the putter separate because of its large head that causes damage to other clubs if you store them together. This bag gives you the best solution and allows storage on the external putter holder.
Insulated drinks pocket is one of the most favorite features in this bag. You can have the right tempered beverage just when you need them on the course to enjoy the play. .
It is quite lightweight for a cart bag so you can carry or travel easily with this bag. Considering the price level, the features and build quality is spot-on.
Frequently Asked Questions About Prosimmon Tour 14 Way Golf Cart Bag Review
How do you manage a 14 slot golf cart bag?
A 14 slot golf bag has 14 different slots to keep your clubs separate. Start with your drivers at the top, then hybrids, irons, wedges and putter. 14 slot cart bags are the best and easiest bags that keep your clubs organized.
Who makes the lightest cart golf bag?
There are many lightest cart golf bags. Among them, Prosimmon is one of the best and lightest golf cart bags. It weighs only 5.3 lbs which is very light. You can easily carry it anywhere and walk around the course conveniently.
Which is the best cart bag?
As we reviewed, the Prosimmon 14-way golf cart bag is one of the best and most feature-rich golf bag. You can safely put your clubs and necessary stuff in this bag. It prevents any external damage and makes a satisfying golf session.
If interested, you may get detailed information about best rated golf cart bags for pushcart alongwith Prosimmon 14-way golf cart.
Final Words
If you consider various features and affordable prices, then Prosimmon 14 way cart bag is the true WINNER. The features of the bag make it the best cart bag. It keeps your things organized and ensures an enjoyable golf play.
In compare to the price, the bag offers decent durability. At the end, comparing the price and features, Prosimmon Tour 14 Way Cart Golf Bag is worth your money.