To play golf conveniently, it is vital to have the appropriate golf shoes. A lack of adequate golfing gear may make the game equally tough for golfers, particularly novices. So, you must buy a golf shoe that is appropriate for your needs.
In this ECCO Biom Hybrid 3 Review we are going to provide detailed information about one of the best golf shoes made by the prominent brand ECCO.
This premium golf shoes were designed with comfort and performance in mind, so that you can focus on the game with coziness.
ECCO Men's Biom Hybrid 3 Gore-Tex Golf Shoe review will describe the product's overview, advantages and drawbacks and some of the most commonly asked questions about this golf shoe.
Are You in A Hurry? Then Grab the ECCO Biom Hybrid 3 Gore-Tex Golf Shoe Now:
ECCO Biom Hybrid 3 Golf Shoe
Made with 100% leather

Gore Tex technology ensures optimized breathability and waterproof features

Biom natural motion technology provides soft, durable & comfortable walking

Yak leather increase breathability and durability

Modern design and attractive look
Why Should you read this ECCO Men's Biom Hybrid 3 Gore-Tex Golf Shoe review?
You may be asking why you should bother reading a golf shoe review when you can simply go to the store and try one on.
As an enthusiastic golfer, I've always found that reading evaluations on the golfing gear I wish to buy for myself are incredibly beneficial before making the real purchase or investment.
If you are new to this sport, this technique will help you obtain the necessary knowledge on your chosen product by exposing you to diverse perspectives from product owners.
When looking for new golf shoes, the most important things to look for are traction, balance, ease, the optimum range of motion, and a proper fit so you don't slip about.
ECCO Biom Hybrid 3 Gore-Tex Golf Shoe review will explain to you precisely how this golf shoe became one of the best in the world.
Here l have concentrated on explaining the key characteristics of the ECCO Biom Hybrid 3 Golf Shoe, as well as the various advantages you will receive from this golf shoe.
By the conclusion of this ECCO Biom Hybrid 3 Gore-Tex Golf Shoe review, you should have a better understanding of this golf shoe, which will make your purchasing choice simpler.
So, without any further ado, let's get started with the review.
Brand Profile – ECCO Men's Biom Hybrid 3 Golf Shoes
ECCO is a Danish shoe manufacturer that started its journey in 1963. They now own and operate facilities throughout Europe and Asia. They manufacture all of the leather used in Ecco shoes by taking protection for the environment. Their only goal is to create a pleasant walking shoe.
ECCO Golf shoes are created with the highest consideration for how your feet connect to your swing and are built to give exquisite comfort from the moment you put them on.
Ecco has made significant investments in innovative technologies to ensure that these shoes deliver maximum stabilization and grip on the golf course. To do this, they returned to their Danish heritage and the country's preoccupation with a design based on nature.
The leather is produced from Yaks from China's Tibetan Plateau. This results in a fine-grained leather that is incredibly lightweight but yet highly robust. This is critical for permitting a lightweight shoe that will remain convenient for hours on the golf course.
Ecco also uses what is known as "fluid form technology." This is used to bind the top and outsole of the shoe, resulting in a one-piece shoe that does not require gluing or sewing. This decreases weight while increases mobility and longevity.
ECCO Biom Hybrid 3 Golf Shoe Review –A Comprehensive Discussion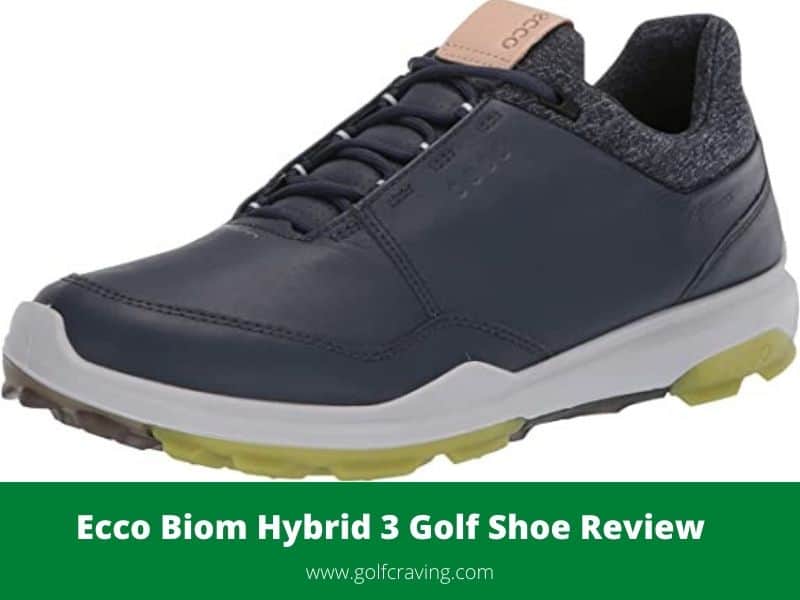 Ecco continues to set the standard for hybrid spikeless shoes, with the Biom Hybrid 3 being the most recent addition to the range.
The ECCO Biom Hybrid 3 Gore-Tex Golf Shoe is one such spikeless golf shoe with outstanding tools and Capabilities for added versatility and convenience.
They have a considerably more streamlined and basic look than earlier models. It looks to be more feminine and sleek. A splash of color on the side of the sole, tongue, and collar, along with the revised form, results in a more modern-looking shoe.
Key Materials Used
The materials and manufacturing process of these shoes contribute to their comfort. Ecco has its own tanneries where the quality Yak leather used in producing their golf shoes.
The waterproof GORE-TEX design protects your feet from the course's unpredictable weather and the Ortholite inlay bottoms soften your steps as you go around the course and are detachable for extra space.
The breathable and waterproof GORE-TEX material keeps rain out while allowing the foot's natural water to evaporate.
Flexible dual-layer neoprene provides comfortable cushioning for your feet while allowing for easy mobility. With a low-to-the-ground design and ergonomic footbed, BIOM natural motion Technology makes each stride more convenient.
The revolutionary ECCO Tri-Fi-Grip outsole improves balance, sturdiness, and torsional traction while you swing. This system includes three distinct zones for horizontal loads, striding ease and simple rotational assistance.
Key Specifications – Ecco Biom Hybrid 3 Review
It's all leather.
Sole: rubber
The shaft is approximately low-top from the arch.
Width is from medium to wide
Waterproof
Key Features – Ecco Biom Hybrid 3 Review
GORE-TEX Waterproof technology combines optimal breathability with weather protection.
Using anatomical last, BIOM NATURAL MOTION technology puts the player closer to the ground.
YAK leather uppers are very robust and lightweight, allowing for enhanced ventilation and resilience.
The ECCO Tri-Fi-Grip has three zones: Mobility, Sturdiness, and Torque and angular Assistance.
Ortholite inlay sole for long-term padding and aeration, detachable for extra-space options.
Product Description – ECCO Biom Hybrid 3 Gore-Tex Golf Shoe Review
The Biom Hybrid 3 is a shoe worth considering if you're looking for a versatile spikeless option that delivers great golf-specific performance in all situations. This shoe is designed for individuals who want luxury aesthetics, on-course performance and off-course adaptability.
Key Technology
The redesigned outside sole design assures zonal performance over three parts, one for stabilization, one for sturdiness and one for rotary support. A Racer Yak leather upper ensures ventilation and endurance while a 100% Gore-Tex water resistance is guaranteed for three years and a BOA closing mechanism is available to provide the best fit.
Design and Looks
This shoe features a contemporary appearance while being classically comfy. However, it is safe to assume that the designs will divide viewpoint, but with so many options available, ranging from sleek and traditional to extravagant, every taste has been provided for.
Feel
They are light and have a unique appearance, yet they provide good grip during the swing motion. The sole construction appears to favor the outside parts of each foot, resulting in a sturdy and firm foundation for the swing.
The padding around the tongue and the high heel provides a comfortable fit in a rounded shape and require little to no breaking in.
The Biom Natural Motion Technology provides true comfort in this shoe. Biom shoes are designed to be low to the ground for added steadiness by enabling the foot to adapt naturally to the landscape. Keeping a golfer lower to the ground generates greater force and balance, which helps to improve the golf swing from the ground up.
This soft but solid mix for pleasant support is the BIOM insole/midsole. It is intended to operate with your foot's natural movement. They have also been created to extend or narrow feet. If you desire a broader fit, you may remove the insole since the insole is completed to be worn insole-less.
The heel cup is another region that always is essential for comfort, and the ECCO is so large and cushioned that there is no chafing around the Achilles. The region is covered in with additional cushioning, which gives them a bit of elegance.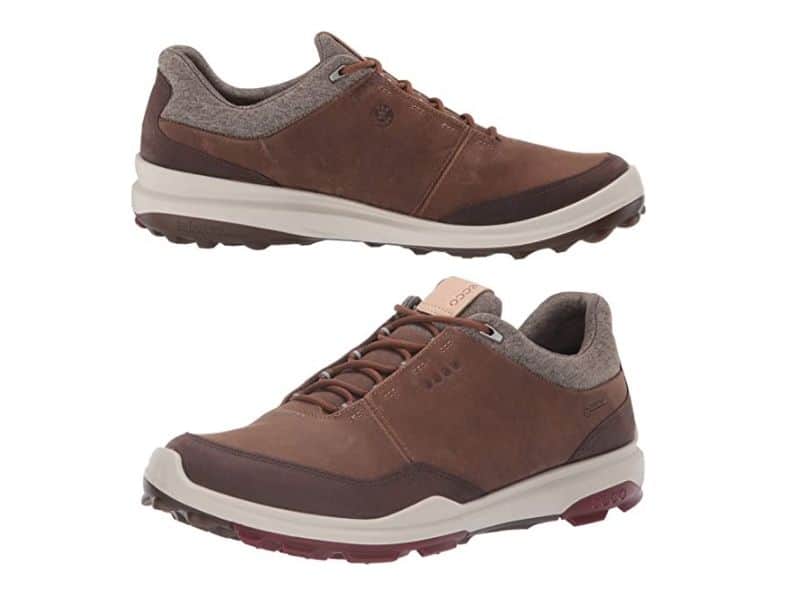 Build
Ecco promises a long-lasting shoe by utilizing Fluid form technology. They certainly have a robust and lasting feel and they are built of high-quality materials.
They may not appear to be as waterproof as shoes with a harder body, but a thin layer of Gore-Tex membrane between the leather top and inner keeps moisture out.
Fit
Each BOA Closure System has its own dial and laces, which endure for the life duration of the shoe, guaranteeing enhanced feature, comfort and personal fit as long as the shoe is in operation. It's wonderful to just tighten and loosen the stainless steel laces.
You may tweak the fit just how you like and properly distribute pressure throughout your foot. You may give it many clicks for a snug fit if you don't like how you first dialed it, or you can pop the dial and start it again. Only a split second is required to fit perfectly.
Performance
The stiffer portions of the sole are combined to provide the impression of enhanced stabilization than the Biom Hybrid 2 when the outer sole is elevated into and around the toe.
You may feel a little more about the tread on harder turf, but the great news is that this design seldom takes much grass up, so the traction is mostly as intended.
They assist to stop feet from shifting about, which is a great advantage throughout the swing. They're quite light yet keep your foot firm and you won't have any problems with hills and rainy roads despite the poor weather.
Outsoles
The third spikeless ECCO technology is the innovative Tri-Fi outsole for traction. This innovative design has three separate areas in which you may perform from the rear to the next. The first area is a zone of stability. On the side of the sole it is designed to stabilize your feet during the golf swing. The second zone forms the center of the sole and is the zone of sturdiness.
It is designed for convenience and increases the life of the sole. The third zone, known as the rotating zone, has slim, rounded lugs. These lugs are intended to quickly and easily rotate and produce your best swing possible.
Pros – ECCO Biom Hybrid 3 Golf Shoes
Surprisingly good grip for a spikeless shoe from various lies.
Comfort is unrivaled throughout the shoe, particularly in the tongue.
With such good traction, mid-swing slides are a thing of the past.
The style is modern and it appeals to a wide range of people.
For Gore – Tex technology, it is completely waterproof while being breathable.
For Yak Leather, it is more breathable and durable.
Comprises enough technology & features to justify the price tag.
Cons – ECCO Biom Hybrid 3 Golf Shoes
Price is a little bit higher.
Who should buy the ECCO Men's Biom Hybrid 3 Gore-Tex Golf Shoe?
In recent years, ECCO has become a best selling golf shoe brands. Their growing presence has become increasingly popular among pros and amateur golfers across the world.
The Biom Hybrid 3 should be a shoe you test for individuals looking for a flexible spikeless option that delivers superb golf performance in all circumstances.
FAQS – ECCO Hybrid 3 Review
What is the meaning of ECCO BIOM ?
ECCO has started BIOM Project In the year 2006. The full form of BIOM is Biomechanical Optimization. The main goal of the BIOM project was to create soft and durable ECCO leather shoes which aid the foot to move naturally.
Are Ecco golf shoes any good?
Ecco golf shoes are popular for their excellent quality, comfort, design and durability. Golfers of all categories prefer these golf shoes to walk around the golf courses and play the game conveniently.
Is ECCO waterproof?
GORE-TEX technology with Yak leather make Ecco Golf shoes 100% waterproof. This feature allows natural moisture to escape from the foot and keep the golfers comfortable throughout the day.
Is Ecco a good walking shoe?
Ecco golf shoes are made of durable leather with a rubber sole. Besides, Biom Natural Motion Technology provides real comfort to wear this shoe. So, Ecco shoes are obviously one of the best rated golf shoes for walking around the green golf courses.
Is ECCO Shoes good for plantar fasciitis?
Most of the Ecco shoes have built in arch and heel reinforcements features and removable footbeds. Its durable construction provides OU outer soles which absorb impact in every footsteps. As such, Ecco golf shoes are considered as one of the best suited shoes for the golfers having plantar fasciitis.
Final Words
By reading ECCO Biom Hybrid 3 Review hope you have obtained all the information about this golf shoe for facilitating your buying decision.
From the varieties of shoes of the market , It is difficult to select a golf shoe for yourself with sufficient comfort, traction and performance.
ECCO's Biom Hybrid 3 Gore-Tex Golf Shoe is a new launch and one of the most comfortable and useful golf shoes that will fulfill all of your requirements.
Enjoy walking with perfect pair of golf shoes and play the game comfortably.