Your cart bag purchase will be worthwhile when you invest in the best one. If you think so, then the Founders Club premium cart bag is here. It is the best as well as a necessary accessory for storing and carrying your golf clubs.
Founders Club is one of the oldest golf club manufacturing brands. They never stop improving their products so that they can bring each product with perfection. This cart bag is also suitable for all types of golf players. Check out the article to explore the Founders Club Premium Cart Bag Review.
Are you in a Hurry? Then Grab Founders Club Premium Cart Bag Now
Founders Club Premium Cart Bag
High quality lightweight construction

Top Molded 14 Way Top Organizer protects irons from damage

Equipped with 9 zippered pockets and 2 mesh pockets for ample storage

Includes a strap channel to secure the bag

Plenty of add on features to give comfort
Founders Club Premium Cart Bag Review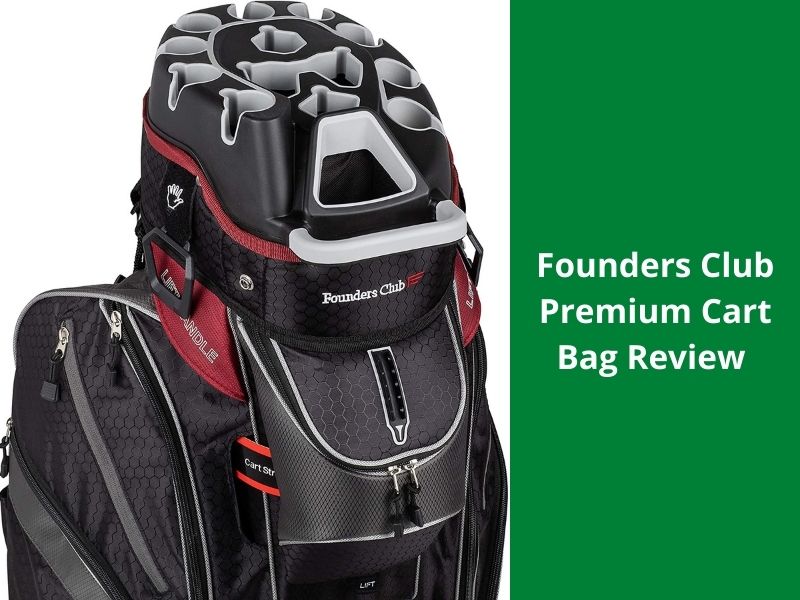 When you carry your irons in a normal bag, the irons bump each other while walking or driving with a golf cart. So a cart bag is useful in many ways. Many pro golf players prefer the Founders Club Premium cart bag as you can find all the expected features in this cart bag. Below are the exciting features of this bag.
First Impression
The golf bag is an essential part of your game. And of course, nobody wants to carry an ugly and uncomfortable golf bag. So the design and organizing system is very important for the golf club. Founders Club cart bag offers a clean and modern design that is very impressive from a styling sense. You can find many color schemes that will match your profile. You can choose your favorite one.
Molded 14 Way Top
Founders Club premium cart bag has a beautifully designed management top. There are 14 molded way top organizers. This molded top ensures full protection of your clubs. The molded top function is a great way to keep away the golf clubs from constant rattling, clanging, knocking, and making noise.
The putter spots of the cart bag accept larger grips up to 1 ¾ inches diameter. However, the slots also obtain most irons up to 1.5" in length for the steel shafts and 0.5" for graphite shafts. Sometimes, the space is ok for oversize putter grips but jumbo grips like Superstroke won't fit in the cart bag.
Separate & Organized
In terms of organization, this cart bag adds top-notch features. Every wood, iron, and putter has its own dedicated spot. So it keeps every golf club separate, organized, and saves from damage. Moreover, you can easily find where the specific golf clubs are placed and easily find out if any club is missing.
High-quality Build
After unpacking the package, the quality of the bag feels premium. The whole construction is made of durable wood with rain cover. Coming to the club slots, they are durable and sturdy. There is used molded rubber on the slots and designed for irons, putters, woods, drivers, and wedges. The wider bottom of the club slots accepts thicker grips that are found in typical putters.
The build makes it very convenient as well as prevents scratches or any damage. The most impressive thing is the rubber molded design holds each club in place so that they don't rattle against each other. This feature allows you to carry the bag without any worry.
Handling
Founders Club premium cart bag has a large, sturdy, and reinforced round base so that you can stand up on its own. Though you need to balance it properly. We found this feature beneficial to find any items that you need instantly.
Furthermore, the bag has 2 integrated side grab handles and a bottom handle that are placed into the cooler pocket. There are many handles in case you want to lift your clubs out of the trunk or keep them onto the cart without any hassle. Truly, the handles make the navigation like a breeze.
To carry the bag from cart to field, you can use the rear grab handle. There is also a tuck-away padded carry strap if you want to carry it with your shoulder. Moreover, it includes a strap channel so that you can securely attach the bag to your cart.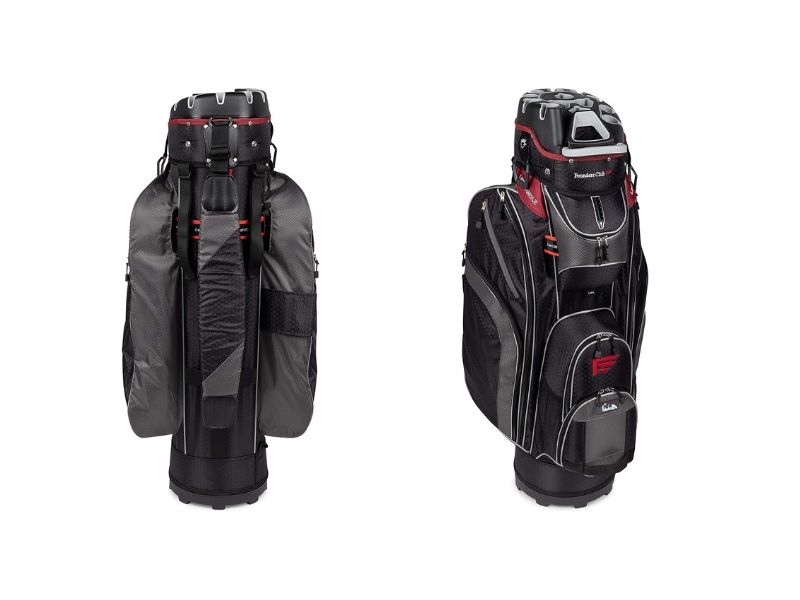 So Many Pockets
The cart bag is equipped with 9 zippered pockets and 2 mesh pockets that offer an ample amount of storage. You can keep all your necessary gear and accessories in these pockets.
Among these pockets, there is an insulated cooler pocket with drains that actually drips liquids like melted ice. So you can keep your favorite beverage or snacks cool. Others are 2 additional front pockets where you can keep your golf balls, 2 long expandable side pockets to keep bulky items like rain gear, apparel, or golf shoes, and 2 side velour-lined pockets for valuables and devices like rangefinders.
You will find plenty of smaller pockets in the front. These add-on features make your time on the course more satisfying and desirable. You can easily manage all the stuff nicely. The bag also includes a glove holder, an external tee holder, a D clip for golf towels or golf rangefinders, an umbrella holder, and a snap-on rain hood. That means you can keep all your knick knacks that you may need on the course.
Weight Facts
Weight is one of the most crucial references while choosing best golf cart bags. This Founders Club premium cart bag weighs under 9 pounds on its own. It is fairly lightweight for a cart golf bag. Though you may think it is heavier than the typical standard golf bag. The weight increases due to the molded rubber top divider. The molded rubber slots are the main selling point of this bag so you can't blame the weight. Since it is a cart golf bag, the weight is acceptable.
After storing all the clubs and accessories, the weight feels heavier but all the weight is evenly distributed so you won't have so much problem. The padded strap on the bag lets you carry the bag yourself.
Value For The Price
If you consider quality, durability, and value for money, Founders Club Premium Cart Bag will meet your expectations. This is the best gift for any golf player who dreams to have a functional golf cart bag. The high quality of the bag assures you that you can use it time and time again for years on end.
When you go on the field with this cart bag, you can strut across the course with confidence. The bag actually offers premium features at an affordable price. The features and quality is top-notch and quite impressive for the money.
Moreover, You will get a full 12-month warranty from Founders Club. It is an assurance from a popular US company that has been producing golf equipment around for a century.
Pros & Cons Of Founder Club Premium Cart Bag
Pros
Modern and organized design.
Innovative rubber molded 14-way club slots.
Plenty of storage space.
Constructed from durable and sturdy material
Comes with many pockets.
Lightweight build
Includes a cooler pouch
Easy to handle
Offer great value for the price
Gives a 12 months of warranty
Cons
The height seems a bit tall
The clippable accessories and D clips are flimsy.
Doesn't fit much larger grips like superstroke.
Frequently Asked Questions About Founders Club Premium Cart Bag Review
Is the Founders Club Cart Bag waterproof?
This cart bag has a water-resistant feature but it is not fully waterproof. But the bag held up very well in the wet conditions and light drizzle. The material seems to be bead moisture pretty well. However, it includes an umbrella holder so that you can protect your stuff from heavier downpours.
Is Founders Club a good brand?
Professional golfers claim that they are satisfied with the quality of products manufactured by the Founders Club. They have been around since 1990 and their perfection on each product is impressive. They always work to improve the lifestyle of a golf player. So you can trust this brand.
Are cart golf bags worth it?
Many players enjoy walking on the golf course and a cart bag is a useful option for them. Cart bags are a great choice for storage and keeping things organized. If you are buying a cart bag from Founders club, then it will surely be worth your money. Because the cart bags offer ample premium features and store the clubs safely.
How do I arrange my golf cart bag?
Since the Founders Club premium cart bag has different club slots and plenty of pockets, you can easily organize your bag. Firstly, clean your golf clubs, put your longest clubs, add shorter irons, and then keep other accessories like tees, rangefinders, snacks, drinks, etc. To learn more about arranging your golf cart bag view this post.
Final Words
If you are used to driving motorized carts on the golf course, then this Founders Club Premium golf club is the right choice for you. This cart bag features a unique anti-rattle technology in their club slots that locks the putters in place and prevents moving around and making noise.
Since there will be no rattle, your club will be protected and won't have any damage. Also, you can safely store all your necessary stuff in the bag's pockets. The features of this cart bag are appreciated by many pro golf players. It is a handy choice to keep your things organized.