It's not an easy task to keep track of all the things in your golf bag and that's what we are going to help you with today. So, before you board on your next golfing trip, try following these tips and tricks on how to arrange golf clubs in bag.
Here , some secret tricks and easy process on arranging golf clubs in a bag is discussed in detail. Many of us don't understand the importance of setting the clubs in the bag until we need one particular club and cannot find it.
Inside a standard golf bag, you will find 14 golf clubs, golf balls, an umbrella, gloves, an extra t-shirt, a cap, water, and maybe some snacks. Other accessories include keys, a torch, a phone, and so on.
Most of the golf bags that are manufactured these days have different compartments to carry other essentials needed for your practice.
However, different golf bags have different types of manufacturing strategies. Our goal is to organize golf clubs in the bag in a proper manner.
What are the 14 clubs in a golf bag?
As a gofer the first thing you should know, what 14 clubs should I carry in the golf bag?
There is no right or wrong when it comes to choosing golf clubs. The only "right" is what works for you and helps you play better, and the only "wrong" is what doesn't work for you. Your strength and weaknesses as a golfer determine which clubs you should carry.
The needs of the low handicapper are pretty different from those of a beginner golfer. Some clubs are easy to handle, and some are not. However, players who are higher handicapped should focus on easy-to-hit clubs. This means hybrids are more valuable than long irons for the beginner golfers. Players who have more experience can play a wider variety of shots.
The rules of golf are to carry 14 clubs in your bag. But you can have 14 or fewer.
So which clubs should you carry? What clubs go in a golf bag? Like I said before, there are no "essential golf clubs" or "must-have golf clubs" either.
Based on the golf players skill level, they should carry golf clubs in their bag as per the following chart.
The High Handicapper's bag
The Mid-Handicapper's Bag
The Low Handicapper's Bag
3-wood
4, 5 and 6 hybrids
7, 8 and 9 irons
Pitching
wedgePutter
Driver
3-wood
4 and 5 hybrids
6, 7, 8 and 9 irons
Pitching wedge
Sand wedge
Putter
Driver
3-wood or 2 hybrid
3-iron through 9-iron
Pitching wedge
Gap wedge
Sand wedge
Lob wedge
Putter
A simple list of all the 14 clubs that you can carry is noted below:
Driver (x1)
3 Wood (x1)
2/3 Hybrid (x1)
4 Iron – Pitching Wedge (x7)
Wedge Set (Lob wedge, Sand wedge, Gap wedge) (3x)
Putter (1x)
This is the new system, as said by the USGA.
The better you can play, the more fun your game becomes. No matter what your skill levels are, make sure to use golf clubs you are comfortable with.
The Types of Golf Bags
One of the very first steps of this procedure is to check if you have a golf stand bag or a cart bag. Here are some pointers and divisions between the different types of golf bags:
4 way Divider: Four large slots – more common in stand bags and Sunday bags.
5 Way Divider: Five large slots – more common in stand bags.
6 Way Divider: Six medium-sized slots – more common in stand bags.
10 Way Divider: 10 smaller-sized slots – more common in cart bags.
14 Way Divider: 14 individual slots – this type of setup is more common for cart bags. However, this type of divider is offered in premium stand bags.
15 Way Divider: 15 individual slots (one specific putter slot) – only featured in cart bags.
How to Arrange Golf Clubs in Bag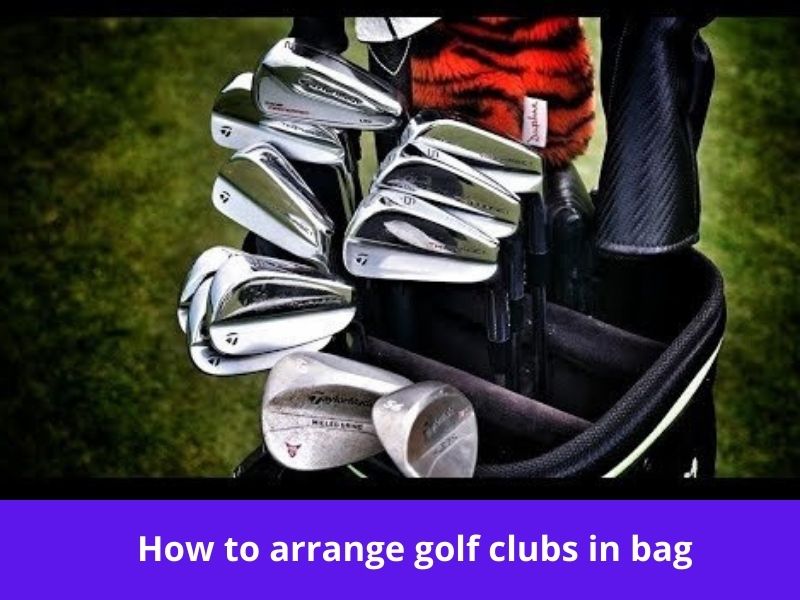 A golf bag is one of the most essential accessories for a golfer and every golfer should know how to arrange golf clubs in bag in an effective way.
One of the most common reason for being unable to arrange your golf bag properly because you do not know all the different sections and sectors in a golf bag.
People often buy a new bag and get confused seeing the arrangement system. Some bags are labeled with the names of all the different clubs. But if yours is not marked, then try these methods:
Woods go in the back section
Put all the wood clubs in the back areas of the golf bag. Usually, there are three or more slots as many as fourteen spaces for you to place your clubs.
One slot should only fit one club.
Low irons and hybrids go in the middle section:
As the hybrids are of medium length, they fit perfectly in the middle of the trolley golf bag.
Short irons and wedges go in the front part:
The size of the short irons is not a lot, making them a perfect fit to place in the front section of the bag.
Putters can be placed both in the front and back as they are very slick. However, some golf bags have a separate compartment in the shape of a tube to put the putter.
The golf balls can be placed in the large zippered pocket, whereas the smaller zippers are used for ball markers, gloves, green repair tools, spike wrench, etc.
Hopefully, this short description helped, but if you want a more detailed step-by-step explanation , I am going to mention that below.
Proper Way to Arrange Golf Clubs in Golf Bag – Step by Step Guidelines
You should follow the below mentioned steps to organize your precious golf clubs in the golf bag effectively.
Step 1: Remove all the clubs from the bag and arrange them all in a straight line. Then shake the bag to remove all residues of dirt and grass. If you are planning to clear the whole bag, then empty the pockets as well.
Step 2: Check the storage area of the bag a few times before placing the clubs. Once you get the right idea of putting the clubs, you will find the arrangement process much more manageable.
Step 3: Set aside the longest irons and the woods. Group 1, 2, 3 clubs which you use for more extended and powerful shots. If you plan to play on a long course, then place those clubs in the front to easily find them when you are golfing.
Step 4: Take the 4, 5, 6 clubs and place them in the middle. These clubs help you when your ball is 150 to 170 yards away from the hole. These clubs can be recognized by their length and club size.
Step 5: The 7, 8, 9 clubs have loftier and chunkier heads, and they are also short in size. Place these clubs at the back of the bag. And then you can place your putter in there too.
How to organize clubs in golf bag in an effective way
You may organize clubs in golf bag by maintaining the below mentioned procedures:
Arrange golf clubs according to their durability
When you arrange your clubs, you are making sure that they do not rub against each other. If your clubs are packed in a tight space, they tend to rub on each other, making them weak and losing their strength and effectiveness.
Also you need to ensure that the shorter clubs are far from the longer clubs when you reserve them at the very back and front of the golf bag.
Remember that longer clubs like a hybrid, fairway wood, and driver are usually significantly lighter than the shorter clubs. This makes them more damage-prone if you continue placing them in random sections of the golf bag.
You will know precisely where each club is
Golfers should always get the peace by knowing where each one of their golf clubs is. The arrangement of golf clubs should be properly made before and after the game.
Golf clubs could be arranged in the golf bag during the game too; however, it's not the best choice. Probability of not finding the right golf club at the right time could increase through this process.
So to avoid all these unwanted problems, arrange your clubs beforehand.
You will be aware if you lose a club.
Golf clubs often fallout from the golf bags.
When you arrange your clubs in a 14 slot golf bag, you will notice immediately if you are missing a club, and even that one lost club can ruin your whole game.
And it's even a more considerable nuisance if you only realize it in mid-game. So to avoid this, be aware of the placement of the clubs.
How to arrange golf clubs in a stand bag
Most golfers tend to use a 4, 5, or 14 slot bag. If you organize your golf bag every once in a while, it helps with the fatigue and can benefit you on how the weight is dispersed.
To arrange golf clubs in a stand bag , you should first place the two clubs you use most often in the round – your driver and putter. This makes it easier to pull these two clubs out without having any interruptions. It is also common to put the straight sticks in the front and wrap a cloth or two around those. If you have a six-way divider, you may also want to place your three wooded golf club there.
One more way to set up the middle spaces would be to put all of your irons in there. The hybrids and woods in the top slots (along with your driver). This is good for a 4-way divider golf bag.
In the bottom slot, you should put your short irons and remaining wedges. I would avoid putting any putters without a head cover in the bottom. The bag clatter will scratch and chip up your putter!
How to arrange golf clubs in a cart bag
A cart bag makes it easier to arrange the clubs as most of these bags have a 14-way divider top. So, you should know how to organize a 14 slot golf bag.
Golfers who carry this type of bag will be riding in a cart most of the time.
When you are walking around the golf courses with a golf pushcart, your bag will be placed at an angle. So think how the load is sitting when you have it on the grass or ground with its wheels propped out. The bag is at such an angle that it causes the clubs to clash with one another.
This makes it harder to get the clubs at the bottom harder to get out than the cubs on the top, causing inconvenience in the game.
One of the most critical settings of a cart bag is grabbing your most important clubs quickly. You will place your putter in a slot that is easier to access. Put your driver in the front with your putter. Setting up cart bags is more about choices than anything.
Players using a cart bag place their woods and drivers in the backside of the bag. Iirons, driving irons, and hybrids in the mid sections and the putter in the front.
This is just the standard setup which may vary on individuals' choices.
Final Words
As we have reached the end of our discussion about how to arrange golf clubs in bag, we hope this has helped you get a better view of why your golf bags should be arranged.
In the above discussion, you found all the necessary details on arranging your clubs in a bag. I have naturally explained everything so that all sorts of golfers can understand it.
Considering how pricey a set of clubs can be, it is better to take care of the ones you have right now.
If you are still facing problems with understanding anything, you can reach out to me by simply sending a direct message.
Take care!