Golf lovers can experience a real game through a golf simulator. Thanks to advanced technology that creates an enclosed zone for golf players. Its biggest benefit is you don't need to postpone your game due to the unexpected climate. You may play a golf simulator in the local golf club or indoor golf center.
A complete golf simulator is pricey that may break your wallet. Moreover, you need a high-quality simulator to enjoy the accuracy. The high-quality product simply comes with a higher price tag.
If you are about to buy a golf simulator but the price doesn't fit your budget, don't be upset; you can build your own golf simulator at home. This guide will lead you to how to build a golf simulator. It is a complete guide for you to build a golf simulator at home and enjoy the real game.
How To Build A Golf Simulator?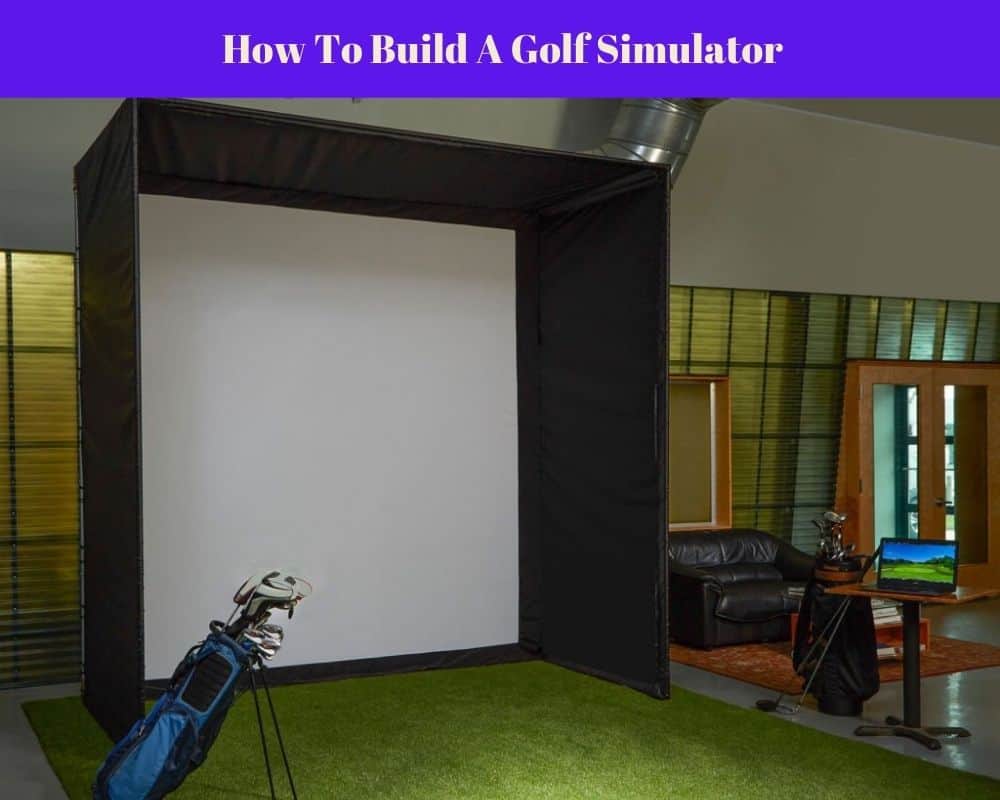 The golf simulator is a pack of multiple techy components. Some of them, you can make by yourself, and some you need to purchase from the golf market. You need to ensure quality devices and get ample power from such a system to play the game smoothly. Following are the requirements and steps to heed for a perfect golf simulator. 
1. Fix The Golf Simulator Space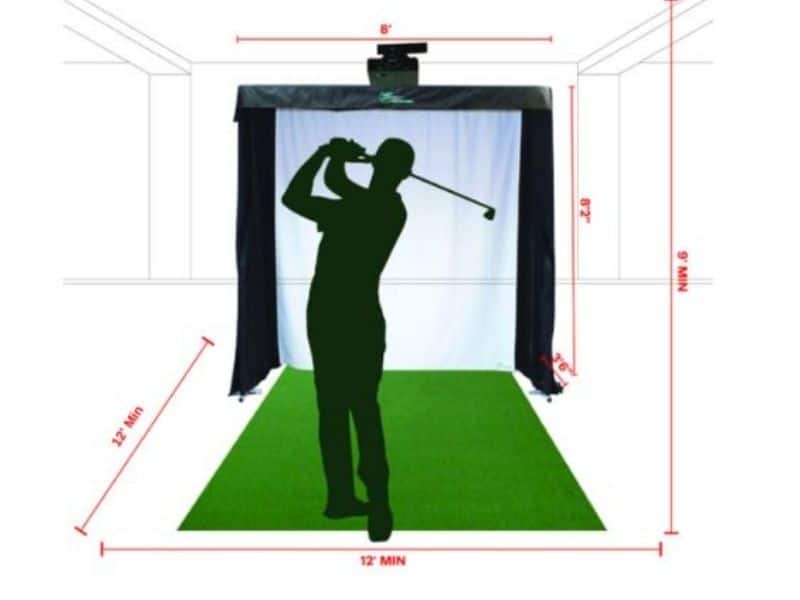 To play an indoor golf simulator, you need to fix a space at home. We'll address it as the first consideration because an ideal room allows you to swing the golf club comfortably without any distractions. Make sure your fixed room is wide, deep, and tall enough for your playing.
Many players set the golf simulator in the garage because typically it is a big spare space in the house. If your garage is not suitable, you can consider the basement, office, game room or backyard for setting up your golf simulator..
Height: Typically 9' ceiling height will offer enough clearance for most golfers. Though a ceiling height less than 9' will be okay for some players, it depends on the player's height and swing.
Width: A room with 5' to 10' will be enough to carry your golf simulator screen and net. It is an average measurement. Whether you are a left or right-handed golf player, consider an extra 1' or 2' room width. A 12' room space is comfortable for your movement. However, most simulator systems fit in a 10' room.
Depth: 12' room depth is very comfortable for movement and ample for a simulator set-up. It will provide you space between the screen, wall and also there will be enough space behind you.
2. Launch Monitor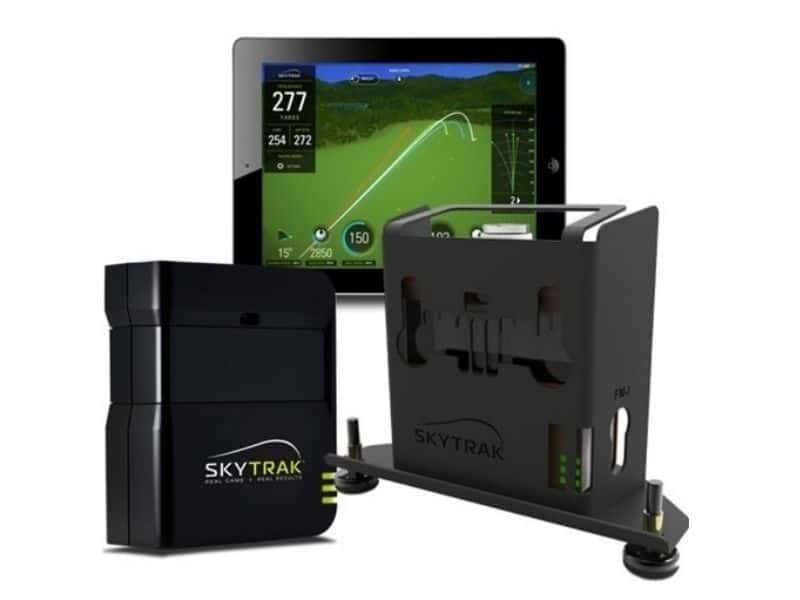 A launch monitor is the core of the golf simulator. It measures and analyzes ball flight data and tracks your shots. This data helps you to understand where you need to improve.
While buying a launch monitor, make sure it produces almost all types of exact parameters such as ball speed, distance, detailed analysis of swing plan, angle of attack, and other launch factors. Moreover, accuracy is the key factor in changing your game. So don't compromise with the quality of the launch monitor.
3. Computer Requirements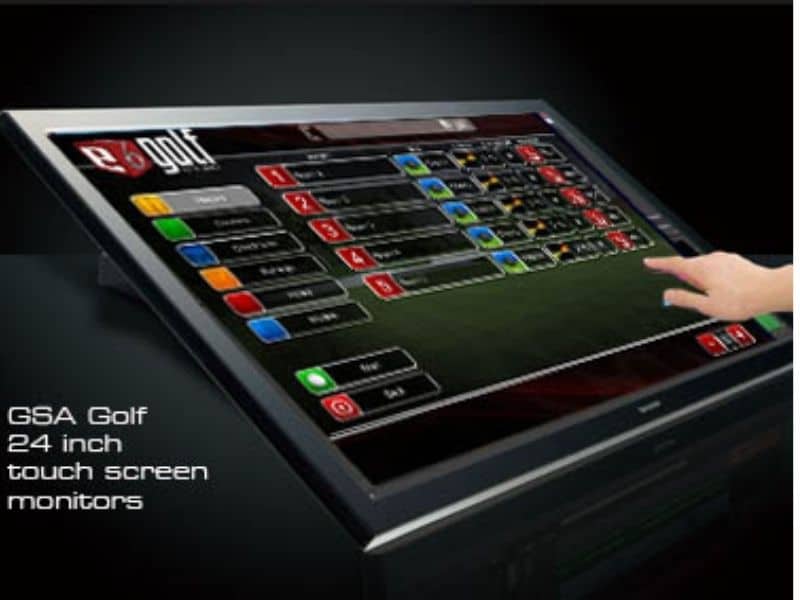 You need handy smart gadgets like tablets, iPad, or Windows PC. Most of the time, the PC works fine to run the software. The latest simulator software has all these compatibilities.
Computer system requirements for Golf simulator.
4. Golf Simulator Software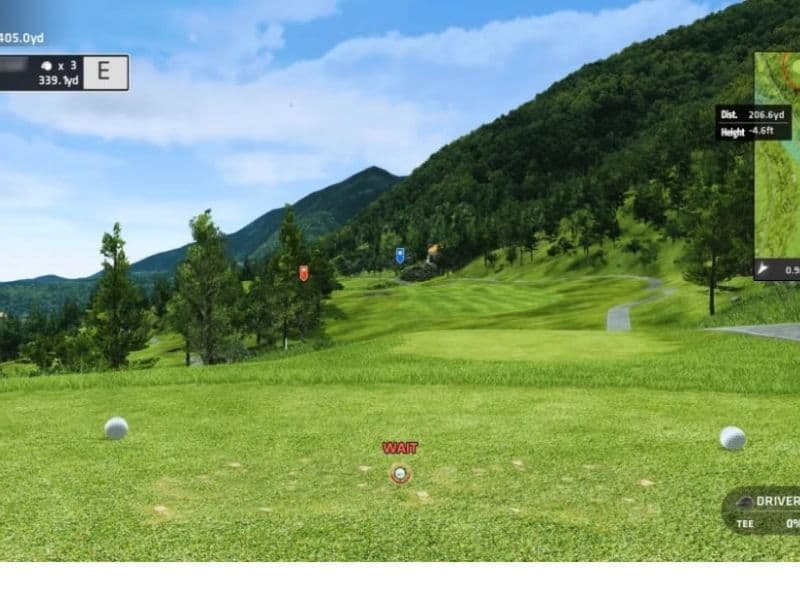 Choosing golf simulator software depends on which launch monitor you have. Because the monitor's compatibility is the main point. Some popular brands like SkyaTrak monitors have their own simulator software.
Further, the software should be feature-rich because you are not just ball striking on the range, for instance, you are willing to know replays, shot tracer, and all the ball performance data. Moreover, consider a maximum graphic resolution for an ultra-realistic view. It would be best if you choose a 4k graphic to have a photo-realistic experience possible. But remember the computer or monitor hardware should be compatible with the graphics.
5. Golf Mat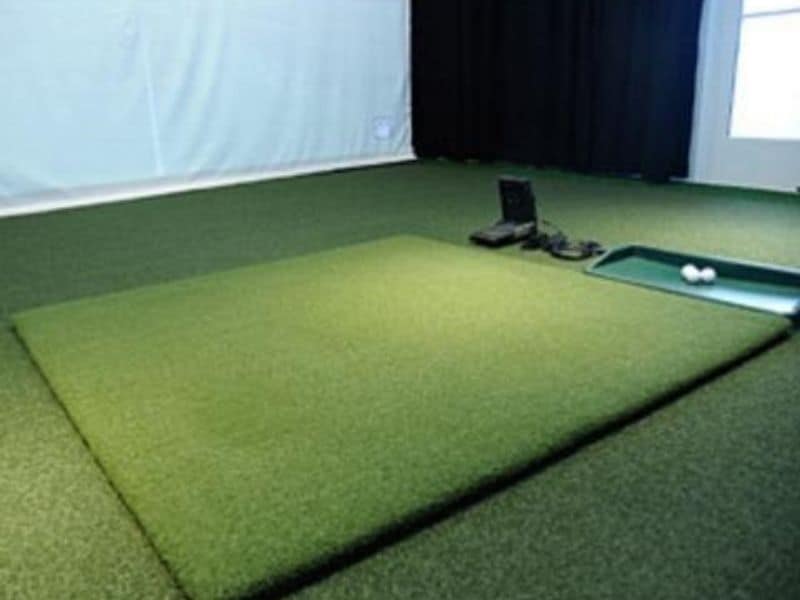 The golf mat is the next item of the home golf simulator where you will hit off. For a perfect DIY setup, you need to consider the durability, performance, and forgiveness of the golf mat. There are many cheap golf mats available but remember you will get what you pay for. So check a decent quality golf mat that offers exact golf simulator readings.
Golf Mat Size: You can choose small or large golf mat sizes because it doesn't matter if golf balls land on your home flooring. However, the large golf mat covers both the hitting area and the ball landing area. The standard golf mat size is 10' x 10' that typically covers the driving range.
Golf Mat Technology: Choose a decent quality of the materials of the mat as they leave a big impact on the feel and durability. Many brands add additional layers to give a realistic feel like real grass. The realistic feedback does a great job while giving a shot.
6. Golf Screen Projectors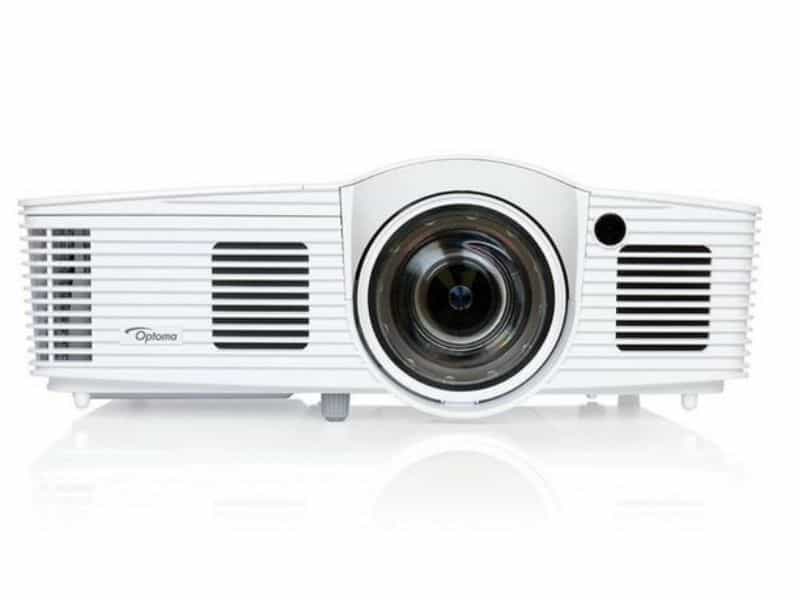 Finding the best golf screen projectors can be challenging for you. Here are some features to consider:
Ceiling or floor-mounted projector: it is confusing to choose between the ceiling or floor-mounted projector. Both have their own advantages. A ceiling projector is an ideal option if the room is out of space, or you are setting the simulator permanently. It clears the floor from chipping the ball. Or if your ceiling height is short then pick a floor one. Also, you can use the floor projector for other purposes like watching movies since it is quick to access.
Throw Ratio of a projector: The throw ratio is the distance between the projector lens and the projected image. The projectors come in short, ultra-short, and standard throw options. The correct throw ratio depends on the room setup. The ideal throw ratio is 2 that means the projector is 2 ft away from the display for every 1 foot of image width.
Golf simulator resolution: Projector resolution related to the image quality. The higher resolution the clean image quality you will get. On the other hand, a low-resolution projector costs you less. You will find projectors in 4:3, 16:9, or 16:10.
Projector Light Source: Projector comes in two types of light technology: lamp and laser. Lamp projectors are the traditional one and they are cost-effective, offers 5000 hours of lifespan. It is the best for a small projector. But the downside is the lamp needs to be replaced when the brightness level reaches 50% and it is a hassle to buy and called labor.
Laser projector provides 20,000-hour or more long life with higher brightness. Though the price is higher than the lamp projector. Here you don't need to spend on light maintenance. It gives a longer lifespan. You may need to change the filter according to the technology you choose.
Brightness: Whatever the lighting system, the requirements of the brightness level are the same. Lumens is the term to measure ambient light that the projector produces. It lays the brightness that you see in the image display. For a brighter room, you need more lumens projector. On the contrary, for a dark room, 2000 lumens will work nicely. If you have a brighter room, then the projector should have above 3000 lumens for the best experience.
7. Golf Impact Screen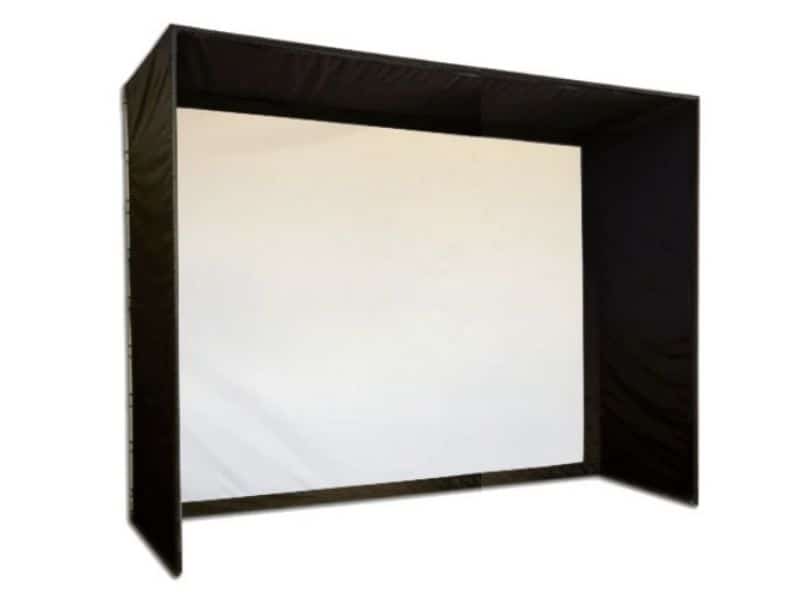 You need a golf impact screen with a net enclosure so that you have improved vision throughout the projector. Probably you don't want to hit the wall and windows, so the net enclosure is improtatnt. There are several choices, you can explore but must consider these two things.
Display Type: You can view the golf simulation result on the display. Well, you can choose an iPad or computer screen. In this case, a standalone golf net will be great. With an HDMI cable, you can run the simulator on the bigger display and TV screen. For optimal view, you can get a golf simulator screen. It is an outstanding setup and gives a feeling that you are in the driving range and enjoying your favorite course.
Portability: Considering portability is necessary that allows you to assemble and disassemble the screen easily. Moreover, also consider, how many people will it take to put up and takedown. So you need a dedicated screen to experience the best golf simulator.
8. Golf Net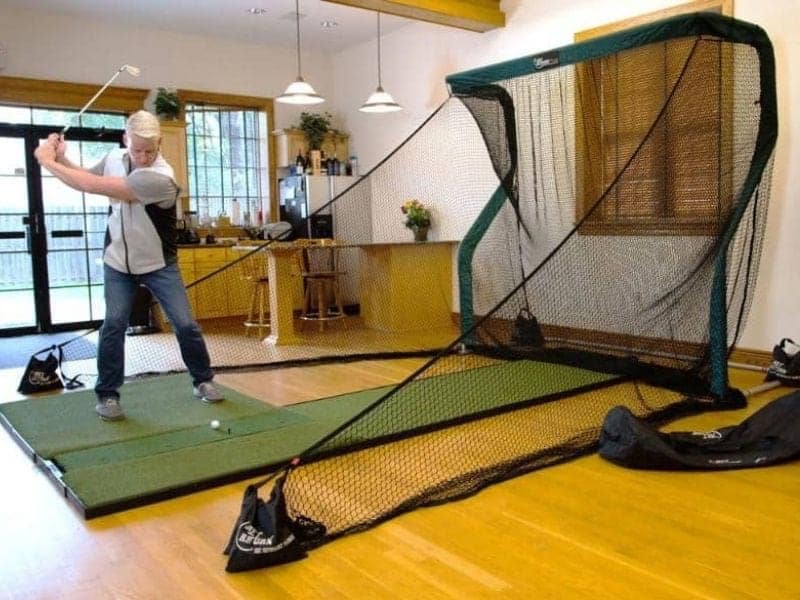 A golf net gives protection so that the ball doesn't land on your room wall or windows. You will have a consistent swing if you use the nets. Some nets are so easy to set up and pull apart. Well, it is the easiest decision to choose a golf net. You can pick any net size, just make sure the room your shots get covered. However, skill level much depends on the net size. If you are not an expert you need a bigger net because the smaller net may not cover poor struck shots.
There is both indoor and outdoor golf net is available. The outdoor golf net is very durable and weather resistant. Choose a net according to the space of your simulation setup.
After completion of building a golf simulator, you need to know how the golf simulators work to get real life gaming experience.
Frequently Asked Questions
Is it bad to hit golf balls off a mat?
The golf mat has a layer of concrete or rubber underneath them. Your golf club may come in contact with the underneath surface, it totally depends on your swing. It decreases the speed of the club. Without using a tee, it is impossible to create a divot.
How do you make a golf Impact screen?
You can buy a finished screen or screen raw materials from the store. To attach the screen, you have to make an enclosure that fits on the screen. You will need pipes and connectors to build an enclosure. After making the enclosure, attach the screen. Wrap the screen with pipes and secure it with a tube clip.
Can I use the garage for a golf simulator?
If your garage has the standard size for a golf simulator, then you can use it. Above, we have told the standard room dimensions. So check it out and consider your garage size.
How high should a ceiling be for a golf simulator?
Ceiling high depends on your height and swing style. The standard ceiling height is 9' that is suitable for most golfers. Moreover, a 10' ceiling height is much more comfortable and adequate for the highest point of your swing. So you need to consider at least the minimum requirements.
Wrapping Up
While building your own golf simulator, you need the components we mentioned above in the article how to build a golf simulator.
Among these, you can do some mix and match. Like you can apply DIY hacks to design a golf mat, screen enclosure, and golf net setup.
However, after assembling all the components, you will have a complete golf simulator and improve your gameplay. Though getting high-quality parts can be costly, still consider decent quality so that you can get practical experience.
If you feel that setting up a golf simular at home is too costly , you may still improve your golfing skills by practicing golf in your home backyard.
Happy golfing.