Despite having all the golf equipment — clubs, balls, and bags, still, you are not ready to hit the ground without your proper outfit. Since golf is a symbol of royalty and luxury, you need to be a gentleman. This is the main reason to maintain a sense of formality whenever playing golf. Many traditional golf clubs and golf courses strictly maintain a dress code.
Nowadays, golf outfits have become a part of the game. It is not just for looking purpose but also protects you from elements and endure a high level of comfort without restricting your movement.
But what to wear to play golf? Here are the pro tips that give you a proper idea about golf-playing outfits. We have also included the right and wrong dressing sense about the outfit of the golf course.
What To Wear To Play Golf?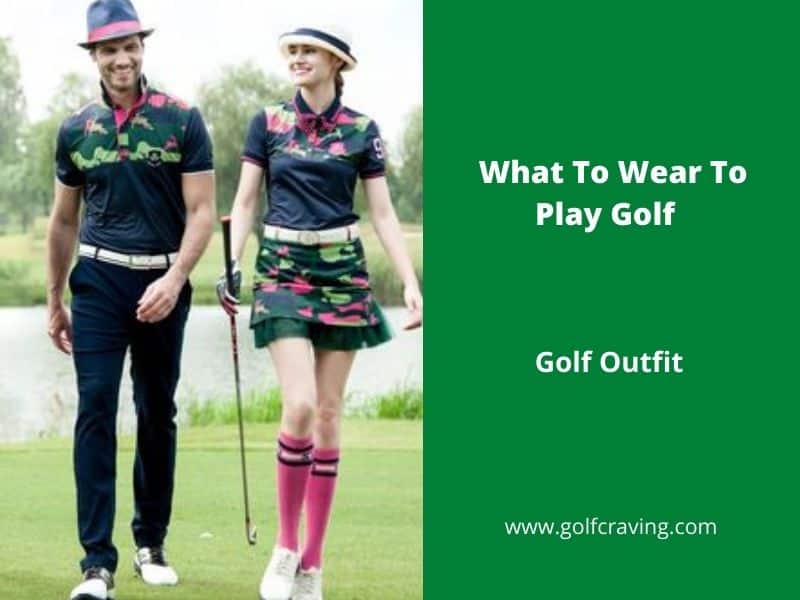 Below we have added the basic rules of the outfit while playing golf. However, many golf clubs can have unique dress codes. So before you go to the club, check their website to know about what do you wear to play golf. Otherwise, you can make yourself ready by following our guide. While being ready for playing golf, there are some restrictions, for example:
Jeans are not allowed
Never wear t-shirts and sport jerseys.
Don't wear too-small shorts
Don't wear rubber shoes and sandals
Don't choose vibrant and loud patterned clothes.
Golf Outfit For Men

Golf is played by both men and women throughout the world. Golf outfit ideas for men are differnt than women. Golf clothing for men are as follows: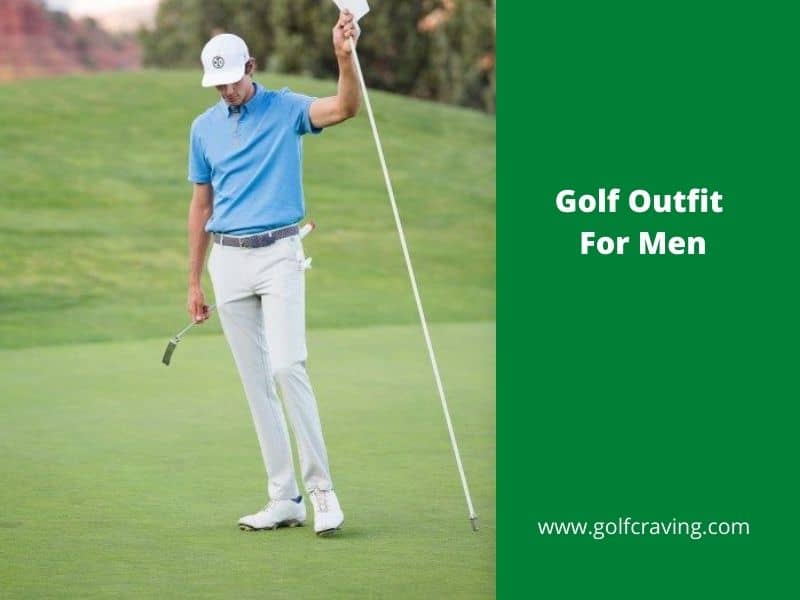 1.Collared Shirts
While playing golf, wear a collared shirt which is the foremost important rule in golf clothing. Every golf club is really strict about this attire. Most golf players wear Polo shirts. Golf Polo shirts are very comfortable and look cool. There are shirts in many different colors and designs. Many modern golfers prefer a mock neck or blade collar. If you own a keen eye for style, you surely find a suitable wardrobe staple.
Depending on your comfort and weather condition, you can wear short sleeve shirts and long sleeve shirts. Moreover, the material also affects your feel on the golf course. Cotton is always comfortable for cooler climates. Don't wear a thick cotton shirt in the hot weather, otherwise, it will end up a sweaty shower.
On the other hand, synthetic fabric is enough suitable for warmer and humid areas, because it helps to evaporate sweat. It permits you to stay dry and cool. Moreover, it is important in golf etiquette to tuck your shirt into your pants.
In cooler temperatures, it would be better if you add layers to your outfit. A sweater, fleece vest jacket, windbreaker jacket, or quarter-zip jacket will be a great addition to your outfit.
Also read : best golf shirts for men
2. Slacks or Shorts
Since jeans are not allowed, it is preferred to wear khakis or golf slacks. Otherwise, shorts are also okay for golf. Whatever you are wearing for your bottom half, make sure it has a belt loop. That means you also need to wear a belt when playing golf. Use some stretchy and less formal golf belt that you wear to go to work. They can be colored or matching with the rest of the dress. You may have an elasticated braided belt.
While choosing golf slacks, properly measure the size and avoid weathering slacks with cuffs. Because cuffs can gather sand which may cause hassle to players.
In the case of shorts, they should not be too short or tight. Your shorts should look like trousers and the fitting should be just above the knee. Remember shorts also need to have a belt loop. Drawstring, elastic, or soccer shorts are not allowed. You can't wear three-quarter length shorts. It indicates like a noob and is often not allowed.
Just like shirts, you need to consider weather and temperature while choosing pants. For a modern golf outfit, you can pick Armour for slacks and Adidas for shorts. Their collections are so impressive for a warmer climate. For cooler temperatures, you can wear flat-front chinos or chino shorts.
Lastly, choose cream, gray, tan, khaki, or beige colors while choosing pants and shorts. The safest color is to be a grey man. Avoid wearing white or pink colors for golf outfits. They are considered as bright colors and introduced as a flashy snappy dresser. Reserve your white pants only for pretentious low handicappers.
3. Golf Shoes For Men
You can not wear rubber shoes, sandals, flip flops, and thongs while playing golf. There are special shoes for golf playing that you are supposed to wear. Golf shoes can be found in three categories: steel spikes, soft spikes, and spikeless.
Never buy steel spikes shoes because most of the golf clubs have banned these shoes. It is only expected in. PGA Tour and used only by the pros. In soft spikes, there are plastic or rubber spikes instead of steel spikes and it prevents tearing up the green. This is the most favored type of golf shoe.
The last category of shoes has lots of tiny rubber studs that make the shoe ultra-comfortable. People who have stub pressure walking will have great benefits from these spikeless golf shoes.
Adidas, Skechers, and Footjoy produce some of the most top-notch and comfortable soft spikes and spikeless golf shoes around there. They provide softer soles as well as ample padding in the heel and the middle section. You can buy both types of golf shoes from these brands.
At present, spikeless golf shoes are more popular and accepted than soft spiked shoes. However, spike-less shoes sometimes look more like sneakers and this can ruin your casual look. So you have to be comprehensive while selecting golf shoes.
4. Socks
Your socks also need to be matched with your outfit. When you are wearing long slacks, choose socks that touch up near your ankles. If you are wearing shorts, then wear some light-colored socks. For any tone of golf outfit, the white Nike socks will be an excellent choice.
5. Hat or cap
If you don't want to get the brunt on sunny days, then you must invest in headwear. There are numerous options for headwear, like visors, baseball caps, cowboy hats, brim, wide-brim hats, or bucket hats. However, baseball caps are more popular in golf tours and most golf courses. Many golfers also wear sweatbands to soak moisture.
You may choose your best suited golf hats from my detailed reviews on 10 best rated golf hats of the present market.
Golf Outfit For Women
Like men, women also need to follow the dress codes for playing golf. So, what do women wear to play golf? What to wear golfing female are discussed below.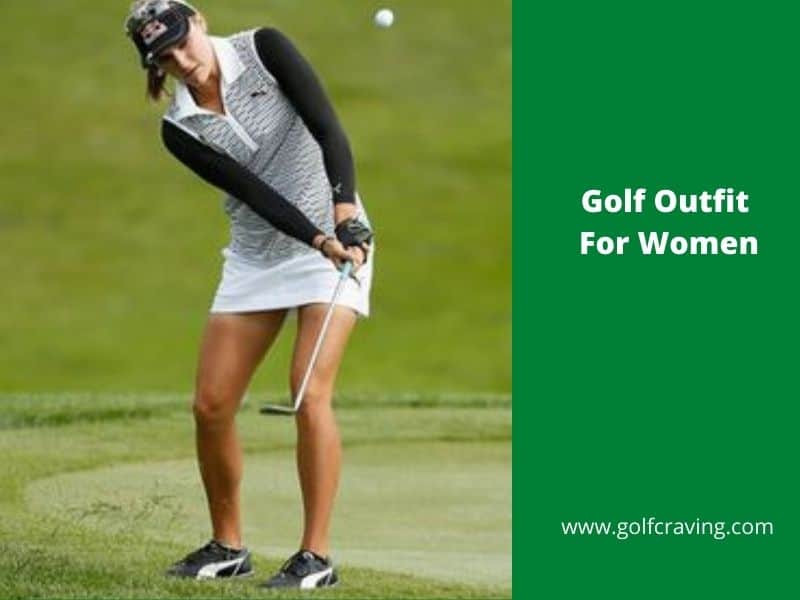 1. Golf Outfit Tops For Women
As sports are progressing, women should wear an appropriate top for golfing. Women can wear short, long sleeve shirts with collar or without collar, or sleeveless shirts with collar will also work.
It is always recommended to wear collared polo shirts on the course. It allows your body to move comfortably and improve your performance. These popular polo shirts come in a wide array of styles, colors, and patterns. For example V-neck, Zip-top, bottom down, and floral or stripe prints.
While many golf private clubs prefer collared shirts in their dress code, you must obey them. However, tops with turtlenecks are also popular and accepted for women's wear.
For cool weather, it is quite common to layer up your top. There are some options for women's jackets and sweaters like a golf vest jacket, windbreaker rain coat, waterproof rain jacket with hoodie, and turtleneck sweater. It is forbidden to wear a denim jacket or sweatshirts on the golf course.
2. Golf Outfit Bottom options for Women
When it comes to bottom half outfits for women, there are lots of options available. Like pants, shorts, skirts, skorts, capris, and dresses. Actually, it is largely dependent on the local weather conditions.
If you wear golf pants or golf shorts, they must have belt loops as we told the general rule earlier. Slacks or colored chinos are a preferable choice for colder months. But never wear denim fabric for pants as you never want anything to restrict your swing in any way.
Shorter slacks, Crop pants, Bermuda shorts are common options for the summer season. Never wear too short shorts on the golf course. Most private golf clubs prefer shorts not more than four inches above your knee. Golf dress codes are maintained for not being too casual. Puma, Calvin Klein offers some awesome collections of women's golf wear. Moreover, athletic pants, leggings, or swears are not allowed on the golf course.
3. Golf Footwear/Shoes for Women
Women golfers can wear sneakers or golf shoes. For a casual look, you need to invest in golf footwear.
Spikeless golf shoes are more popular in women's footwear and they look trendy. You can buy soft spiked golf shoes though. Golf shoes provide you firm footing during taking a swing. PUMA Shoes and Adidas Shoes are the famous choices for women's golf footwear.
Wear some proper golfing socks that provide utmost comfort all day long.
4. Accessories For Women Golfers
Women keep some basic accessories like
Golf visors: women wear a red golf visor on sunny days to protect their eyes. You can choose any type of style, color, and fabric that goes with your outfit. Matching your hat with the rest of the outfit will bring about a flawless golfing aesthetic.
Sunglasses: women golfers can wear polarized sunglasses to reduce glare and protect your eyes.
Watch: if you opt for a watch, then wear a sweatproof and waterproof watch. Casual or smartwatch both are suitable for the golf course.
Extra Tips – What to wear to play golf
Golf Gloves: this is an optional requirement. If you are playing a long session, then eventually, you can wear golf gloves on your hands. But it is more important to find the right size. Golfers need to wear gloves in one hand.
For right-handed players need to wear gloves on the left hand, and left-handed players need to wear gloves on the right hand. Beginners can wear two gloves on both hands for better grip. However, there is no need to spend a lot of money on gloves. Try Grip Boost Second skin or MG Dynagrip for superb value.
You may choose the right fit golf gloves for yourself by reading this content.
Tone Down Colors: must tone down the colors of your clothing. This is the key rule when you are playing golf. If you are playing with business associates or trying to improve business deals with a client, your appearance is important. Bright colors create distractions. So it would be better if you select some simpler and toned-down outfits.
FAQs About what to wear to play golf
What should a beginner wear to golf?
Beginners often get confused about golf outfits. For golfing wear, the most basic rule is to get collared polo shirts, slacks or shorts, soft spiked or spikeless shoes, and wear other accessories. You must maintain this outfit. Moreover, check your local golf club to get an idea about the dress code of their golf club. 
Do I have to tuck in my shirt for golf?
Typically, golf shirts mean you need to tuck them into your pants. It is all about the casual look. If you do so, it will be like you are in a pillowcase. Some private golf clubs make this rule compulsory on the course. And others may allow untucked shirts. 
Why do female golfers wear long sleeves?
It is not necessary to wear long sleeves on the golf course for women. Actually, many women cover the entire length of their arms to reduce skiing temperature by more than 5 degrees. It also works as an SPF 50 sunblocker. Many golfers also apply water to remain cool. 
Can I wear leggings under my golf skirt?
Women golfers can wear leggings but only under a skirt or skorts. You can not wear just leggings like pants. Without a golf skirt, Wear slacks or khakis instead of leggings. 
Final Words
It is pretty cool to start your golfing journey with the proper outfit. This perfect look gives you confidence and faith while playing golf in the club. We have described the basic rules of golf outfits on the content what to wear to play golf. You must follow these rules wherever you are going to play on the golf course. If you are still rambling, never back to calling the golf club forehand to know the dress code.
But remember, comfort is the key. If you are not comfortable enough, it affects your game. So choose some quality and comfortable clothes during playing.
Moreover, consider the weather and your health condition while choosing clothes materials. If you properly follow these rights and wrongs, you can surely have a good and enjoyable golf session.