A pair of suitable golf gloves can help you increase your golf gaming significantly. But one unfortunate fact is finding the correct golf glove is not easy for those who have sweaty hands. Some golfers even have no idea what kind of golf glove will play a role in solving their problem.
For this reason, we are here. We know what type of glove is required for a person with sweaty hands. Hence, we made a comprehensive research and found out these 10 best golf gloves for sweaty hands.
5 of them are best to use in hot weather, and the other 5 best for humid weather. Let's not waste further time and jump into the product details.
Top 10 Best Golf Gloves for Sweaty Hands – Comparison Table
| Image | Product Name | Check Price on Amazon |
| --- | --- | --- |
| Top | FootJoy Men's WeatherSof Golf Gloves | Buy Now |
| | FINGER TEN Men's Golf Glove | Buy Now |
| | Titleist Perma Soft Golf Glove | Buy Now |
| | Callaway Golf Men's OptiColor Leather Glove | Buy Now |
| | TaylorMade Stratus Tech | Buy Now |
| | HIRZL Trust Control 2.0 Golf Gloves  | Buy Now |
| | FootJoy RainGrip Golf Gloves | Buy Now |
| | TaylorMade Rain Control Golf Gloves | Buy Now |
| | Nike Dura Feel VIII Men's Golf Glove | Buy Now |
| | MAZEL Premium Golf Gloves | Buy Now |
Best Golf Gloves for Sweaty Hands Review
These golf gloves have been popular for a long time. They are chosen and used by severe golf players. Golfers who want to play golf with perfect grip have been picking them for years. Still, in 2022, these golf gloves are leading the market.
All of the below listed golf gloves are best fitted for sweaty hands. Further, some of the gloves are most suitable for sweaty hands during hot weather and some are best suited for humid weather.
The following 5 golf gloves are considered as the best rated golf gloves for sweaty hands golfers during hot weather.
1# Best for Durability:

FootJoy Men's WeatherSof Golf Gloves
FootJoy has been famous for creating the best quality golf gloves for a more extended period. The FootJoy WeatherSof Golf Gloves is their top-selling product globally because it's the least expensive and one of the most durable gloves.
These gloves feel so soft when worn. It's the right pick if you are searching for gloves suitable to wear in any kind of weather. However, this is not the only reason to select it. It has more specialties.
The design and durability of the gloves are improved. When wearing WeatherSof, it feels so premium. Thanks to the manufacturer for choosing FiberSof as its production material. It's not only affordable but also sturdier than leather. There are leather patches on the palm and thumb.
You will feel them after wearing the gloves because they are added to the internal part. Since it's sturdier than leather, it will not get the leathery vibes totally when your fingers touch the gloves. But you can only have such a vibe if you were only wearing leather gloves all along.
Professional golfers always look for comfortable gloves that will stretch only when you require them. WeatherSof has a PowerNet mesh divided into two sections.
These allow the knuckles and the rear of your hands to stretch only the parts you want to extend. Whenever you grip, only the areas you require will be extended. All the other parts of the gloves will stay tight. It means it will snuggly fit while providing comfort.
The FootJoy brand is undoubtedly well-known for producing super-quality golf gloves. If you wear one, you will find yourself having a better grip on the golf stick. It can maintain its condition well in hot weather for longer and keeps your hand sweat-free.
Pros
Outstanding design
Premium quality materials
Feels light
Stretches only the parts you require
Provides secure grip
Cons
It does not feel like leather made gloves
2# Best for Breathability:

FINGER TEN Men's Golf Glove
Whether it's raining or shining outside, you are always well equipped when wearing these gloves. These gloves will ensure your hand doesn't get sweaty wearing it for hours. The best part of the FINGER TEN Men's Golf glove is it is not too soft and very durable, yet it manages to keep its user's hand dry.
Generally, our hands get sweaty playing golf only when we wear a glove that does not have breathability when the material is complex enough to stop the air from getting in and out of the gloves. Lucky you! FINGER TEN Men's Golf glove has to offer you a great glove that will do both protect your hand and keep it dry.
The design of it is truly unique. The premium quality Cabretta leather is added to the location of the thumb. It can keep your thumb insulated while ensuring your thumb's flexibility is not affected. Plus, the rear part of the gloves is created using sturdy synthetic leather. This alone makes the glove a super breathable item.
The manufacturer's primary focus was to increase the breathability, so they have strategically placed in Lycra fabric. However, it's added to the finger sections only.
Some gloves are too hard to wash, while you will have no issues cleaning this golf glove. A delicate spin in the washing machine is enough to take all its dirt out of it. You can let the air dry naturally.
If your focus is to get a golf glove that can stay with you as your golf partner in any weather, this is what you should pick. Besides, it gives you the flexibility that most golf gloves cannot offer you. While it's painful to wash most such products, it will ensure you are not annoyed when cleaning them.
Pros
Key areas are made of materials that increase its breathability
Lycra fabric in the section of fingers enhanced flexibility
The golf has ball marker included
Padded thumb helps improve the grip
Cons
Ball marker can easily fall off
3# Best for Convenience:

Titleist Perma Soft Golf Glove
If comfort is your priority in picking a golf glove, you will not regret choosing Titleist Perma Soft glove. During the golf match, wearing this golf glove will ensure you are not concerned about the sweaty hand. It guarantees to provide enough airflow, so feel good with it.
Titleist Perma Soft glove feels so smooth and feels lighter than many golf gloves out there. It's because this glove is created with Cabretta leather. Whether you play many rounds of golf or not, it will always keep its shape right at its place.
While comfortable enough, it also offers you 100% dryness for your hand. The Cabretta leather ensures to provide your hands safe from moisture and rain. It's because the material has moisture resistance. Even if it's raining while you are playing, the glove will make sure to give you a tight grip over the golf stick.
We suggest choosing this glove for the convenience it offers. Many golf players only prefer wearing leather-made golf gloves, and if you are one such player, you will love it for being too soft and leathery. Besides, it ensures to keep a player's hand moisture free and does not feel heavy.
Pros
It has sweat and rain resistance
It's made of high-grade leather
Suits both male and female
Trusted brand
It feels so comfortable
Cons
According to some customers, the material of the glove wears down sooner
4# Best Adjustable:

Callaway Golf Men's OptiColor Leather Golf
This specific glove is for those golfers who are fashion conscious. It looks so stylish and comes in various bright colors that many golfers chose this item just for its appearance. Whoever wears it looks like a trendy golf player.
Golf is a game where the player has to control their whole body in order to get the proper position for a perfect shot. So, the golf, shoes, and clothes a golfer wears should feel relaxed and adjustable.
Callaway Golf Men's OptiColor leather golf gloves you supreme adjustability to increase your overall performance quality. It fits fine but is also thin and light. For this reason, one can easily adjust it as many times as he wants.
This is another excellent option since you are looking for a golf glove to ensure your hand is not sweating when playing. No matter how hot the summer gets, you are always given the freedom to enjoy your favorite game wearing this glove.
For intense golfing, you need this product because it has an excellent level of breathability. The premium quality leather used in making it allows the air to quickly go inside and outside of the glove.
The glove's design may not look attractive enough, but it will surely provide you with the air your fingers and hands need inside the glove. Plus, it's not heavy. The glove is a bit thin, but it does not mean it will rip off quickly. Both the material and build are strong.
Pros
It's made of high-quality leather
It gives you opti feel
It has moisture reduction
The breathability is enhanced
It comes with an adjustable closure
Cons
The design looks like the fingers are ripped
5# Best for Construction:

TaylorMade Stratus Tech
TaylorMade has been making excellent gloves for different level golfers and is selling at different prices. If you are looking for a mid-range glove, then Stratus Tech will be here as an incredible option. It's even affordable. If you are okay with a glove that is not a full leather product, you will like this one.
Among all the products we have reviewed above, Stratus Tech is the most durable. This is for its thickness. The glove is mainly made of synthetic, and leather is also used. It's indeed a great combination. The thickness makes it more durable, increasing the lifespan of the product.
It means you can wash it and use it over and over again. However, a minor issue is it will feel heavier than the other gloves. The good part is it will not make your hands sweaty.
A big reason to choose this product is while being a bit thick and heavy, it will still feel so decent in your fingers. But it will not, of course, feel better like those softer and thinner materials made of golf gloves. Fortunately, it has excellent breathability, another reason to make it feel satisfactory when worn.
The TaylorMade Stratus Tech is a unique item. It's a rigid midrange glove. The only issue is its thickness. However, this makes it a more durable product. The leather inside the glove is a little, but they are in proper positions. It offers a secure grip and is satisfying to wear.
Pros
Secure fit
It feels convenient
It can last for a longer time
Provides your hands a secure grip to the golf stick
Great breathability
Cons
Stretch panel is missing at the knuckle areas
As mentioned earlier, the following 5 golf gloves are best fitted for sweaty hands as well as humid weather.
6# Best Premium Glove:

HIRZL Trust Control 2.0 Golf Gloves
It's an all-weather and professional-level glove. The patter of HIRZL Trust Control 2.0 golf gloves is soft, yet it gives a good grip since the palms are made of kangaroo leather. For enhancing breathability, the glove's backhand is made of Cabretta leather.
A pro golfer should always use a high-quality golf glove because a high-grade material-made glove can give you the ultimate comfort, the proper grip, and long-lasting service.
The superior kangaroo leather is used to create the palms. It can enhance the glove's grip even when you are playing in a wet condition, resulting in higher performance in any weather.
Also, its palm features GRIPPP technology. It promises to provide you the ultimate grip each time you play golf wearing it, whether it's in hot summer or drenching rainy days.
The HIRZL Trust Control 2.0 golf gloves not only feel soft but also feel light. When wearing one and playing golf, you will not feel like you're wearing anything. However, it will still give you the grip you need to perform better.
The HIRZL Trust Control 2.0 golf gloves are outstanding performing items. They feel super light after wearing and give a tight grip over the golf stick. It's undoubtedly one of the best golf gloves for humid weather.
Pros
It comes with abrasion resistance
It offers water repellency
The breathability is amazing
Absorbs sweat well
Ideal to use in all kinds of weather
Cons
It doesn't look attractive
7# Best Design:

FootJoy RainGrip Golf Gloves
This can be the best option for wet weather. The FootJoy RainGrip golf gloves are one of the least expensive yet most effective golf gloves you can find now. You can get either one glove or two as a pair. This will keep your hands sweat-free in humid weather.
High-end Design
This particular item is designed to provide you with ultimate dryness in any weather conditions, especially in rainy seasons. The fingers and the palm are created with a water-absorbing micro-suede knit to ensure your hand will quickly dry. Also, the knuckles and finger backs are interspersed with a unique material that dries any water, including sweat, faster.
Also, its outline made it comfortable to put on gloves. It gives you a secure fit that feels light and soft. So, you are allowed to wear this the whole day even when it's raining.
Great Performance
FootJoy RainGrip golf gloves performs excellently in reducing moisture. The best part is the more moisture it gets, the better grip it offers. However, it's not tacky. It will let you swing and grip the club with all your confidence, whether the condition is a little wet or the wettest.
They can get themselves dry pretty fast. You can wash them after every use without worrying about damaging the product. It's a top pick among professional golfers.
It's undoubtedly a great pick to wear in wet weather. They, however, feel a little strange when wearing in their dry stage, but it does not feel heavier than the traditional golf gloves.
Pros
Gives better grip
Fits perfectly
Dries quickly
It doesn't feel heavy
Looks good
Cons
When wet, it makes the hand feel a little cold
8# Best for Grip:

TaylorMade Rain Control Golf Gloves
These solid gloves are excellent at delivering exceptional grip. The TaylorMade Rain Control Golf Gloves will amaze you with their unique design and performance. While most other gloves fail to perform well in wet weather, this will never stop giving you service.
Of course, you cannot use a standard golf glove in wet conditions because they will feel wet, heavy, and uncomfortable. It's better to get a glove mainly made for wet weather. Several gloves in the market are created to use in all weather, but only a few are made especially to wear in wet weather. TaylorMade Rain Control is one such item.
The material used in creating this golf glove is microfiber, which ensures a flexible experience when wearing it in the rain. Another material is the Nylon fabric that makes the item strong. So no matter how much wet it gets, it will not rip off easily.
When the weather is too wet, and you are playing golf, it usually gets tough to get hold of your golf club. You might have faced the issue if you never used a wet weather glove or a regular golf glove.
But this is mainly made for use in extreme wet weather conditions. So, the manufacturer chose its materials wisely, and these materials ( microfibre, Nylon fabric) makes the glove so strong that it can give 40% extra hold than many other gloves.
We recommend it because many golfers look for gloves that give the best service in wet weather. The TaylorMade Rain Control golf glove is another best glove you can wear in humid weather. If you compare its grip with all-weather gloves, you will feel the difference and the fact that it gives a firmer grip than other gloves.
Pros
It gives you warmth in the wet weather
Specially made for wet conditions
Provides 40% additional hold
Super performance
Easy to put on and off
Cons
9# Best Looking:

Nike Dura Feel VIII Men's Golf Glove
Nike is a globally trusted brand for golf gloves. Their products are trustworthy, but this one is more than that. You can depend on it and see how it brings improvement to your golf gaming.
Many golfers prefer stylish gloves rather than usual looking. Nike's Dura Feel VIII All Weather Men's golf glove is for such fashion-conscious golfers. The design and material look premium and charming.
It's not a pricy product compared with the benefits it provides, yet it looks like a luxurious item. The perforations added on its back fingers play a huge role in making it look more appealing.
It's fantastic to know Nike gave its best in building it ideally. It's made using three combinations of high-grade materials: Nylon, Polyurethane, and Goatskin.
This mesmerizing item of three mixed materials is hence capable of enhancing your performance. Also, it will stay durable for your long-term use. It's not only durable but also flexible, and for having an angled tab design and leather, it feels so convenient.
The Nike Dura Feel VIII Men's golf glove is one of our favorite products for wet weather. It may not have top-quality stitching, but every other factor is satisfactory, including durability, flexibility, comfiness, and good grip.
Pros
It's so flexible
The palm is made using genuine leather
It will not slip when worn in humid weather
The material and construction are praiseworthy
It allows adjusting the closure
Cons
The stitching is a bit low in quality
10# Best Build:

MAZEL Premium Golf Gloves
The MAZEL Premium golf gloves will impress you with their premium quality. The Lycra Spandex inside the glove fingers is perfectly placed and created using superior microfibre.
Some may say it's suitable for hot weather, and some may say it's best for wet weather, but honestly, it's best for use in both weather conditions. It also looks classy but straightforward.
Gloves that have high-end perforations can always keep your hands dry. Whether you want to wear the glove in summer or winter, airflow is a must for keeping your hands dry. MAZEL Premium golf gloves has essential perforations only on the top part through which air flows perfectly. This way, it reduces the amount of moisture inside the glove. You feel great and give a good performance.
You will never feel discomfort putting these gloves on or pulling them off. Thanks to the exceptional Opti fit adjustability. It ensures the glove fits in your hand more closely while giving you a comfortable grip.
A golfer searching for a golf glove he can wear in any kind of season and is reasonable will do the job for you. The best part of this glove is you can, with ease, adjust it when needed.
Pros
Feels soft
Supports you in any weather
High-grade materials made
Strong elasticity
Increases the confidence
Cons
Some consumers say the medium size gloves feel like small sizes
Why Need A Golf Glove for Sweaty Hands?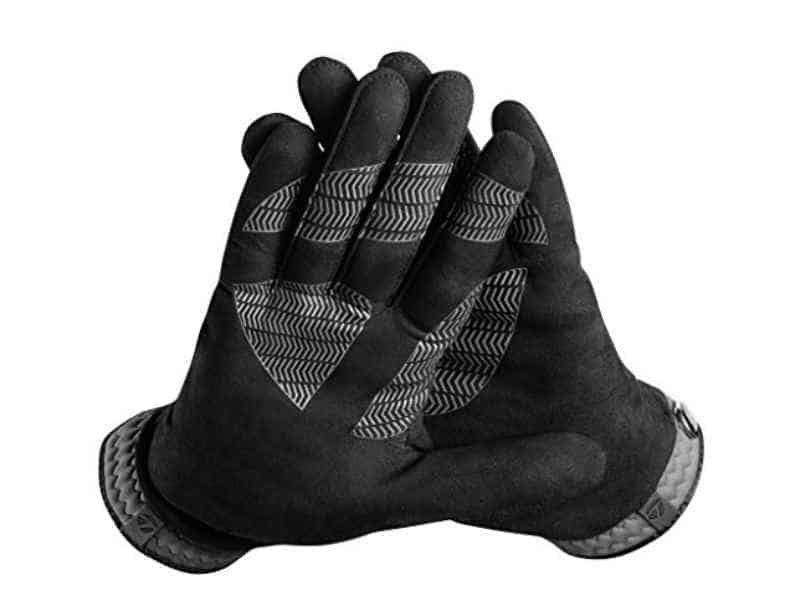 The number of options for golf gloves is vast. All the gloves are not made of the same material, and even their purposes are different. Generally, people buy ordinary gloves that are not too pricey.
Sadly, ordinary gloves can never benefit you in any way. Instead, wearing a cheap glove can make your hands more sweaty inside, resulting in slipping. This way, you lose control over the golf clubs, and your performance becomes poor.
For this reason, it's wise to use professional-level golf gloves, which are weather golf gloves. Let's discuss their importance so that you can understand why you should get one of these.
The first most important fact for buying hot and humid weather resistance golf gloves is they don't make your hands sweaty. Such golf gloves have a special kind of design that includes perforations.
These holes are located at the finger's top through which air can flow well. This airflow ensures the environment inside the gloves is not getting moisturized. Since sweaty hands can significantly affect the game, using one of these golf gloves is wise.
Unlike usual gloves, weather resistance gloves give a better grip. You can hold the ball, club, and anything wearing the glove. You will never get tired of holding things.
It's annoying to feel too hot or too cold wearing a glove. This is a common issue people face wearing usual golf gloves. But with all-weather gloves, the temperature of your hand and fingers will stay normal. You will neither feel unbearable heat nor cold but only warmth.
Weather-resistant gloves are a bit more expensive than the normal ones. But you have to understand the difference between the qualities. While ordinary gloves are made of cheap materials, these hot and humid weather golf gloves are created with high-grade materials. Hence, even if they spend a little more, they will serve you long enough that you can't imagine.
You may like to read : Best Rated Golf Grips for Sweaty Hand Golfers
Buying Guide for Best Golf Gloves for Sweaty Hands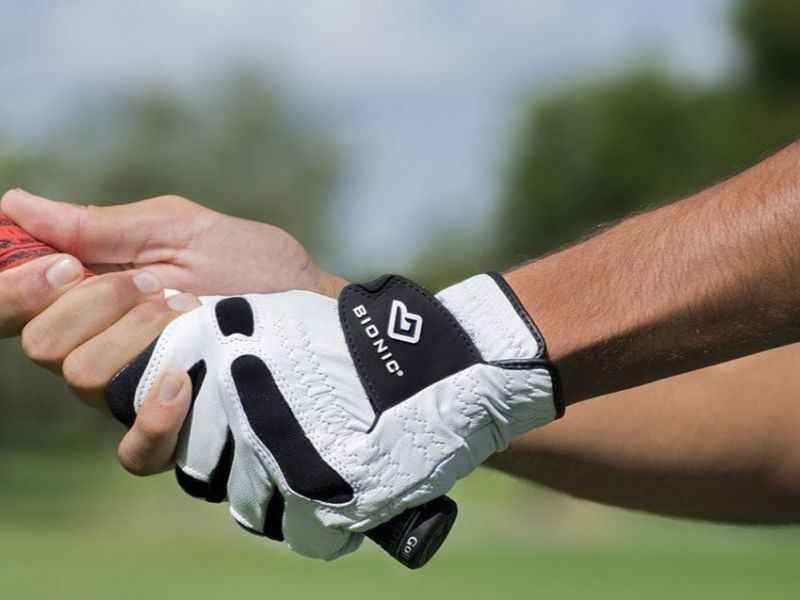 We did our best to find you the best golf gloves for sweaty hands. If you are thinking about how we managed to find these few top-quality products from the vast amount of market items, we will share the guide to finding leading golf gloves. If you carefully check these things below, you can differentiate between the best and the worst golf gloves.
The most crucial factor to look for in buying any product is knowing which materials were used in making the particular product? Only a few materials are suitable to use in producing that specific item.
For example, golf gloves made of leather, microfibre, goatskin, and silicone are high-quality products. These materials are specially used to make items that we wear our skins; if you see gloves made of other materials, know that they will not last.
Since you are wearing the gloves for holding the club properly, it must provide you with the convenience you require. The golf should not feel too heavy because you will get tired quickly. Moreover, heavyweight gloves feel uncomfortable.
They often slip off. When a golfer wears such a glove, he fails to perform well because he usually stays busy adjusting the glove and keeping balance when holding the club.
Always go for the gloves rated high for their overall outstanding performance. The glove should feel comfy; it must be durable, have high enhanced breathability, etc. They should feel lighter than traditional gloves when worn. Of course, the most important thing, they should be able to keep their hands and fingers moisture-free.
If you are fixing a budget before shopping, you are wise. You may know or not, but if a person sets his budget, he can make choices quicker. When you fix the amount of money you want to spend on a glove, you leave yourself with a few options, and then it gets easier to judge those products. This way, you can easily find the golf glove worth it for you.
FAQs –Best Golf Gloves for Sweaty Hands
What are the best golf gloves for sweaty hands?
Many manufacturers claim their golf gloves are best for sweaty hands. But the truth is only a few products are legit.
 
Gloves made of premium-grade materials, have perforations, are durable, and are light in weight are the best golf gloves. These will not make your hands sweaty, whether it's summer, winter, or rainy days.
How do I stop my hands from sweating when I play golf?
If you follow these things mentioned below, you can stop your hands from sweating when playing golf.
1. Using an all-weather glove
2. Carry additional towels
3. Buying and using grip powder, gripping solution, or grip spray
4. Not using the same glove every day
Can you wear 2 golf gloves?
Generally, expert golf players prefer wearing golf gloves in one hand only. The hand they use to grip the golf stick is what they want to protect, so they wear gloves.
Final Words
So, these were the 10 best golf gloves for sweaty hands. We can assure you that you will not regret having one of them. We chose these products after thinking about your requirements and the budget.
Hence whichever item you choose according to your budget, you will win.