Playing golf on the greeny ground means dirt and mud on the golf club's face. You can not avoid dirt after an outing or a round of game.
Of course, buying golf clubs cost you lots of money. And you surely don't want any damage at their early stage. A set of golf clubs is a significant investment and they can be used for years. Proper maintenance is the only way that ensures long-term usage.
Experts recommend giving a deep clean after a few rounds. However, it is a good practice if you scrub or clean the mud after every use. Dirt and debris on the clubs can cause rust on the shaft and irons which leads to club replacement.
Cleaning golf clubs may seem tricky for you. This confusion arises when you don't know the proper process. Scroll down to perceive how to clean your golf clubs.
How To Clean Your Golf Clubs?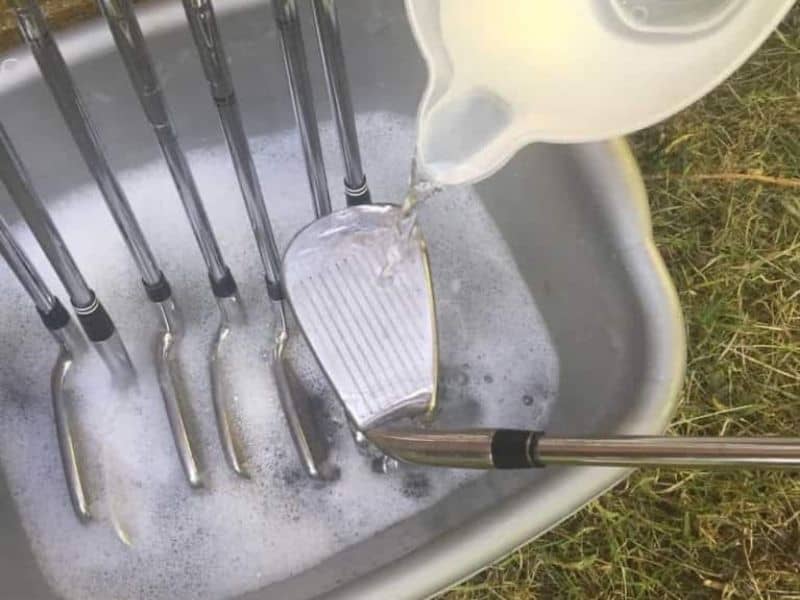 Golf clubs cleansing is a simple treatment and you probably have all the cleaning stuff. There are commercial products to clean clubs but we will show you the simplest way to clean them.
Things You'll Require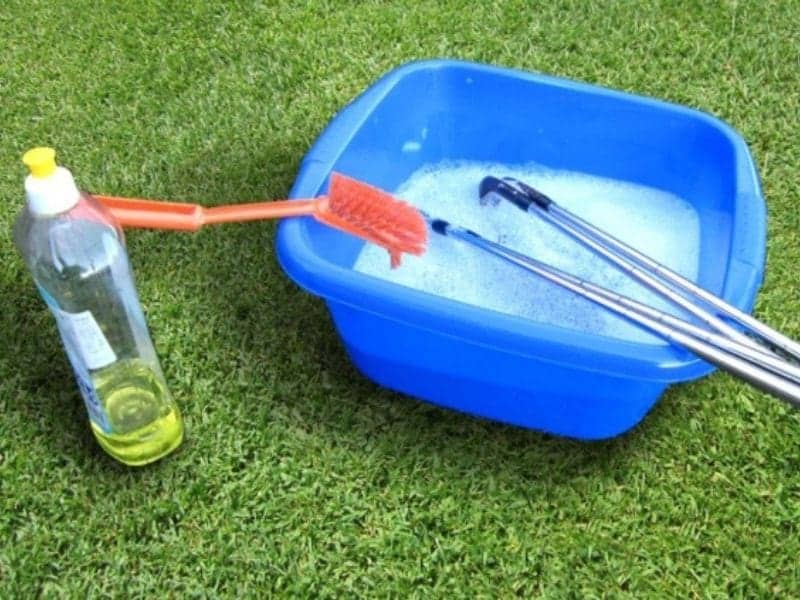 However, take a bucket of water and mix one or two tablespoons of liquid dish soap in this water. Also, get a soft-bristle brush which is the most important item. If you don't have such a brush then use an old toothbrush. Grab the cleaning stuff, sit on a deck, and start to sparkle your golf clubs. Don't clean them in a rushing time.
In a golf club set, there is a combination of different clubs like irons, wood, driver, and hybrid. So you need to follow a specific way to clean each of the club types. Moreover, the process also changes when you clean the club's head, shaft, and grip. Below we will tell you each process of cleaning different clubs and parts.
Cleaning Golf Irons Head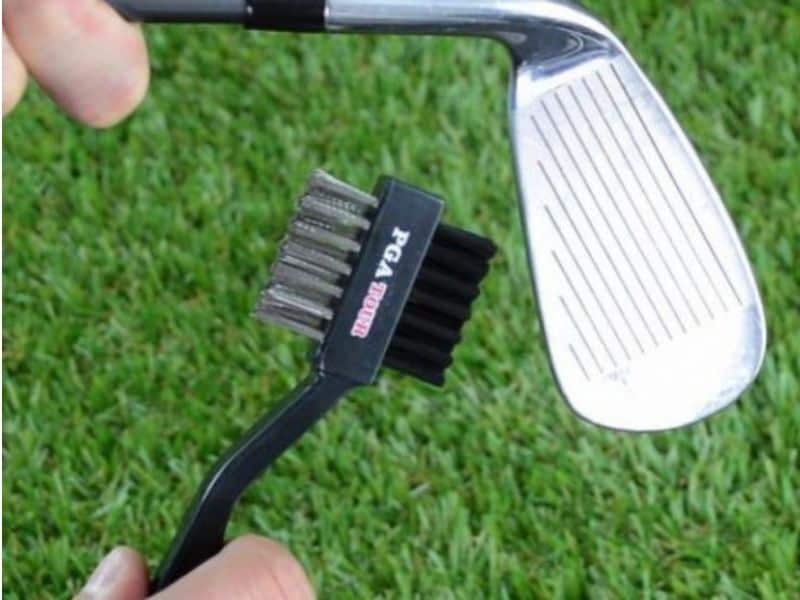 Irons are widely used golf clubs. They have grooves on the face to spin the ball and land softly on the green. A neat and clean groove ensures a smooth release over the green courses. If there is dirt, they can not perform well.
Dip the iron's head into the lukewarm soapy water and wait for 5-10 minutes. Warm water helps to loosen dirt and mud from the head. If the iron head has heavy mud and needs deep cleaning then dip into the water for a longer time.
Bring out the club head of the water and start scrubbing with a soft-bristle brush to remove all dirt residue. Clean properly from the back, front, and bottom. Don't miss the grooves and scrub each groove individually. Otherwise, it will impact your next gameplay.
Then wash the club's head with clean water, but don't rinse the shaft and grips of your irons.
Once you remove all the residue and clean it with water, dry the iron with a towel. Don't leave the shaft and grip damp, they get rusted soon. Also, don't immediately put them into the golf bag, they will be rusted.
Tips : you can apply best polish for golf clubs to make the clubs shiny. Moreover, it will be better if you wipe the iron head after every use, it leads to consistent performance.
Cleaning Golf Wood's Head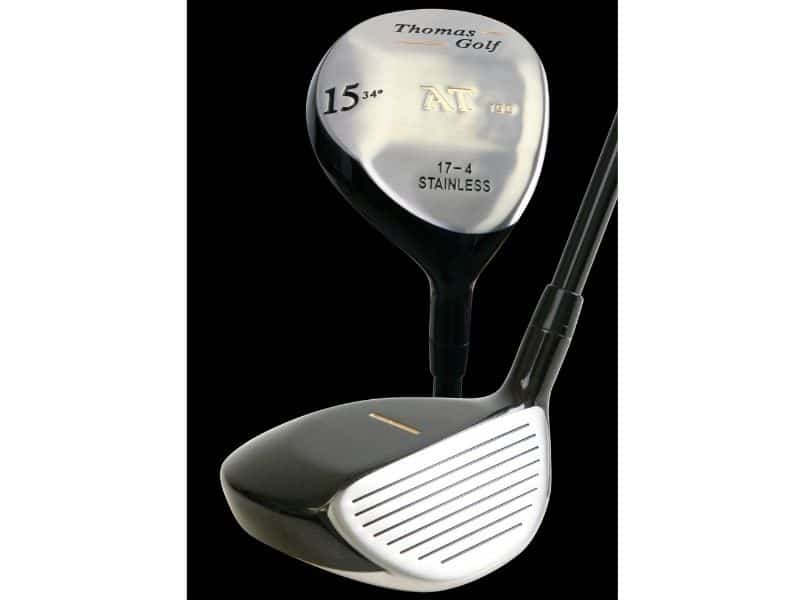 Playing golf with wood clubs is getting outdated. But many beginner-level players still use wood clubs. The driver, fairway woods, and hybrids have wood material. That's why the cleaning process is quite similar among them.
Woods, fairway woods, drivers, and hybrid clubs are used to hit off a tee, so these clubs don't collect too much mud. However, they also need to be clean. Since wood's groove is not as deep as irons so there is less dirt catching on the head.
Use the brush to remove dirt residue on the head.
Then damp a towel in warm water and clean wipe the head to remove remaining dirt. Remember don't submerge the woods into water. Keep wiping with the towel until the clubs are clean.
Then dry the woods with a dry clean towel or rag.
Tips : since woods can trap moisture and cause bad odor or mildew, let it dry fully, then put on the headcover.
Cleaning shaft and grips of clubs
Till now, you have known the club's head cleaning process. Now, you need to clean the shaft and golf club grips. Since you can not dip the whole club in the water, they need separate cleaning.
Many people replace the grip when it is too dirty. The dirty grip feels damp and uncomfortable. Clean grips back tackiness. You can avoid the replacing expenses by taking care of them regularly. You can not avoid cleaning the shaft and grips if you expect long-term performance.
Cleaning Golf Clubs Shaft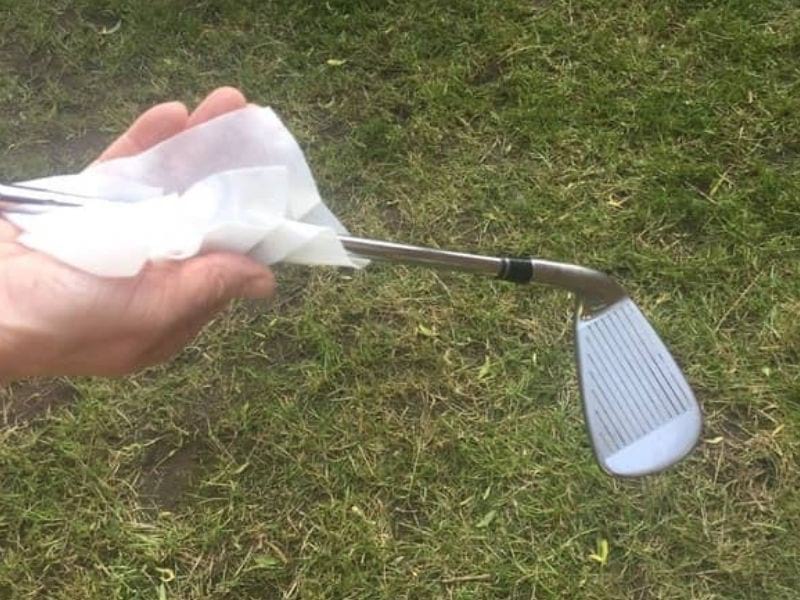 Slightly moist a towel and give a nice wipe from up to down.
If there is any rust on the shaft, then use the dishwashing detergent mixed with lukewarm water. Then scrub the rust gently.
Dry the shaft with another towel and let them dry fully.
Cleaning Golf Clubs Grip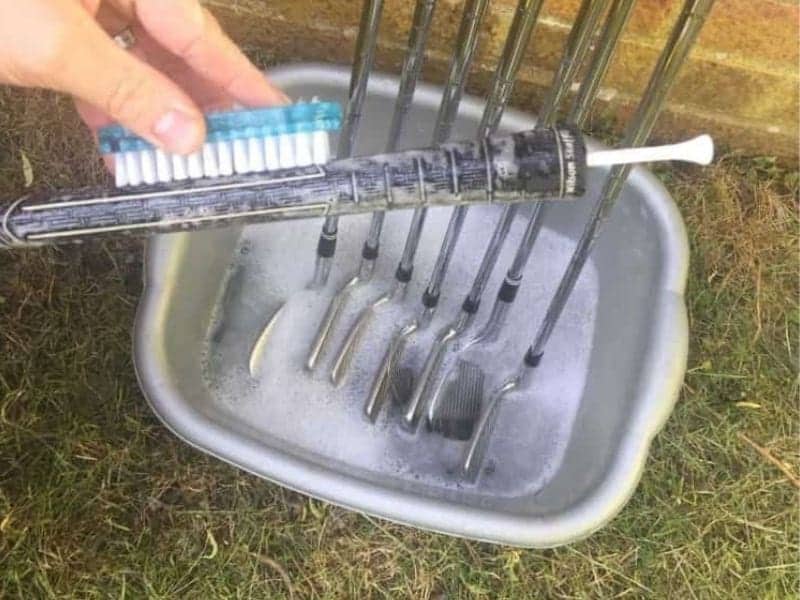 Dip a small rag in the soapy water
Rub the grip with the wet rag.
Use the brush to remove dirt particles.
Wipe again with a dry cloth
Set aside until the grip is dry properly.
If you are interested to know the detailed step by step procedures of cleaning your golf grips, just click here to get the effective guidelines.
Pro Tips To Protect The Golf Clubs
By obtaining these cleaning methods, your all golf clubs will remain in good outlook and they will perform well for longer. However, there are some pro tips to protect the golf clubs:
Golf clubs are an expensive addition to the player, especially the drivers that cost $400-$500. So you should protect this investment. A simple headcover will do the job. During the round, cover the head of the expensive driver. The head won't be damaged.
Avoid playing on rainy days
If you have a craze about golf, you probably play in the rain. Though all the clubs were engineered to play in all weather conditions ,you should avoid rainy days because the mud is moist during the time and the clubs easily get heady mud on the head. If you still play golf in the rain, then bring out all the clubs from the golf bag, wipe them with a towel, and leave them for several hours to dry thoroughly.
Replace Grips if they are worn out
If the rubber grips of your golf clubs get worn out, you should replace them. Grips are quickly worn out than the head and shaft. Changing the grips cost you some money. If you don't replace the worn-out grip, then you feel uncomfortable that impact on the game and feel about buying a new club. But you can save huge expenses by replacing it with something simple and cheap.
Also Read : best scratch remover for golf clubs
Frequently Asked Questions
What is the most effective way to clean your golf clubs?
Cleaning with a dishwashing soap solution is the best way to clean the golf clubs. This is very effective to remove dirt and debris and make the clubs clean. You probably have dish soap in your home, so there is no additional cost for you.
How to bring back the shine of the golf clubs?
Perfect cleaning can hold the shine for a long time. Still, if the shine has faded, you better apply metal polish on the head. Polish should be applied after cleaning. However, thoroughly remove all the grease and residue after applying the polish.
How do you clean the groove of your golf clubs?
Irons have sharp grooves on the head and woods have relatively subsided grooves. Whatever the depth, you need to properly clean the grooves.
If it is iron, then damp on the soapy water and wait for some time, then brush each groove to remove dirt. For woods, remove as much as dirt with the brush then clean with a damp towel.
Wrapping up
Reading this article how to clean your golf clubs , now you are already aware of the cleaning process of golf clubs. Keeping the golf clubs in a good state is not impossible. By proper caring, you can use the clubs for an extended time.
The most amazing fact is that you don't need any special tool or cleanser for this cleaning process. Simple soapy water will give you shine and clean golf clubs. Hopefully, you will enjoy a decent performance following these cleaning procedures.