Golf carts are great for getting around, but transporting them can be a hassle. It sounds like a pain to move a golf cart. They are oversized, fragile, and not made to be moved around easily. You may need to ship a golf cart for more than one reason. You might be moving from one state to another or have bought a cart in another state and need to get it to your new home.
In this article, we will reveal how to transport a golf cart without any trouble. We also include safety measures you need to take to avoid accidents and damage to your vehicle and golf cart.
How to transport a golf cart?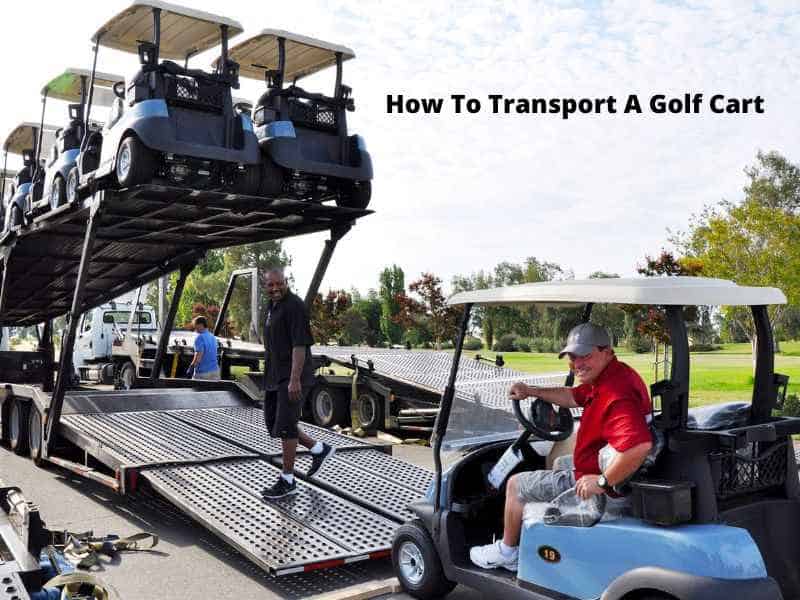 Generally, a small trailer is the best and safest way to move a golf cart. Since small trailers are low, it is easier to load and unload them. To move a golf cart this way, you don't need a big truck with a big engine and a lot of pulling power. With the right trailer, you can travel long distances and take your golf cart to any course you want, whenever you want.
There are trailers made just for transporting golf carts and UTVs, and they come with a winch that makes the loading process even more accessible. You can tie down your golf cart in many places on these trailers.
How to transport a golf cart on a trailer?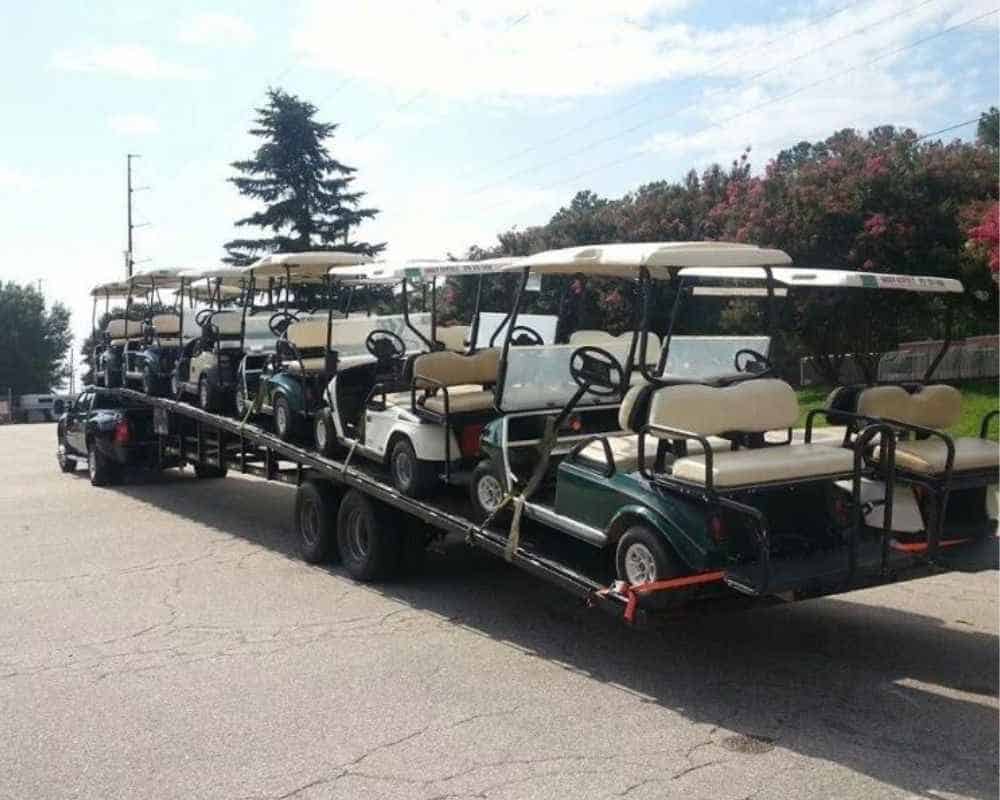 We have shared a proper guideline explaining the whole process, From hooking up the cart to the trailer, loading it up to securing the cart to the trailer, and keeping it as stable as possible while driving. Here is a complete overview of how to move your precious golf cart on a trailer:
Step 1: Get the trailer hooked up to your golf cart. Bring down the trailer until the ball receiver fits over the hitch ball on your vehicle. Drop the latch down and use a locking pin to keep it in place. Now hook the safety chains on your trailer to the bottom of the hitch on your car.
Step 2: Connect the trailer's wire harness to the plug on your golf cart. Ensure the lights work before putting your golf cart on the trailer.
Step 3: Trailers come in two types: Most have two ramps for loading the cart. Just attach the ramps to the trailer and ensure they line up with your golf cart's left and right wheels. The other kind of trailer has a way to tilt it so the bed can reach the ground. In this case, the whole trailer is a ramp.
Step 4: The next step is to put your golf cart on the trailer in either case. First, make sure the parking brakes on the trailer are on. If your trailer doesn't have parking brakes, you can stop it from moving by putting wedges under the wheels.
Step 5: Once you are sure that the trailer is stable and secure, you can slowly drive your golf cart toward the trailer and load it. If your trailer has a winch, find a safe place to hook it up and pull the cart up.
Step 6: Make sure to use tie-down or ratchet straps to keep your golf cart in place while traveling. Remove and secure the ramps; lift down the locking lever and put the safety pin back. Close and lock the trailer's back door, and you're ready to go.
How much does it cost to transport a golf cart in trailers?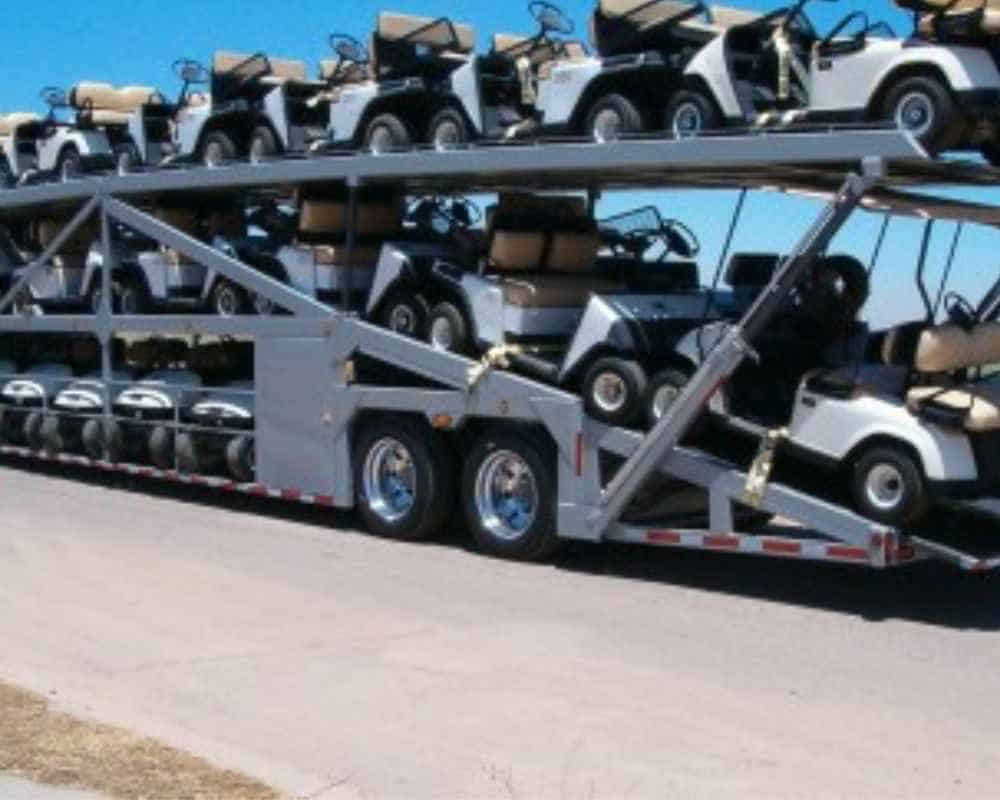 It depends on how far you are going and the company you are taking service from general; the cost range is from $100 to $300 for short distances and $400 to $700 or more for long distances to move a golf cart.
These prices are generally what shipping companies charge for driving golf carts, which can vary based on several factors.
Most of the time, the cost of transporting a golf cart is based on these factors:
How big and heavy the golf cart is.
From pick-up to delivery distance.
Time and weather conditions.
Reputation, insurance, quality, etc., of the shipping company.
What kind of transportation is used (enclosed or uncovered).
The way packages are sent (regular, express, etc.).
If you decide to move your golf cart yourself, you'll have to pay for the extra gas you'll need and the cost of the tools like the trailer, RV, a trailer hitch, ball, etc.
What kind of trailer do I need to move golf cart?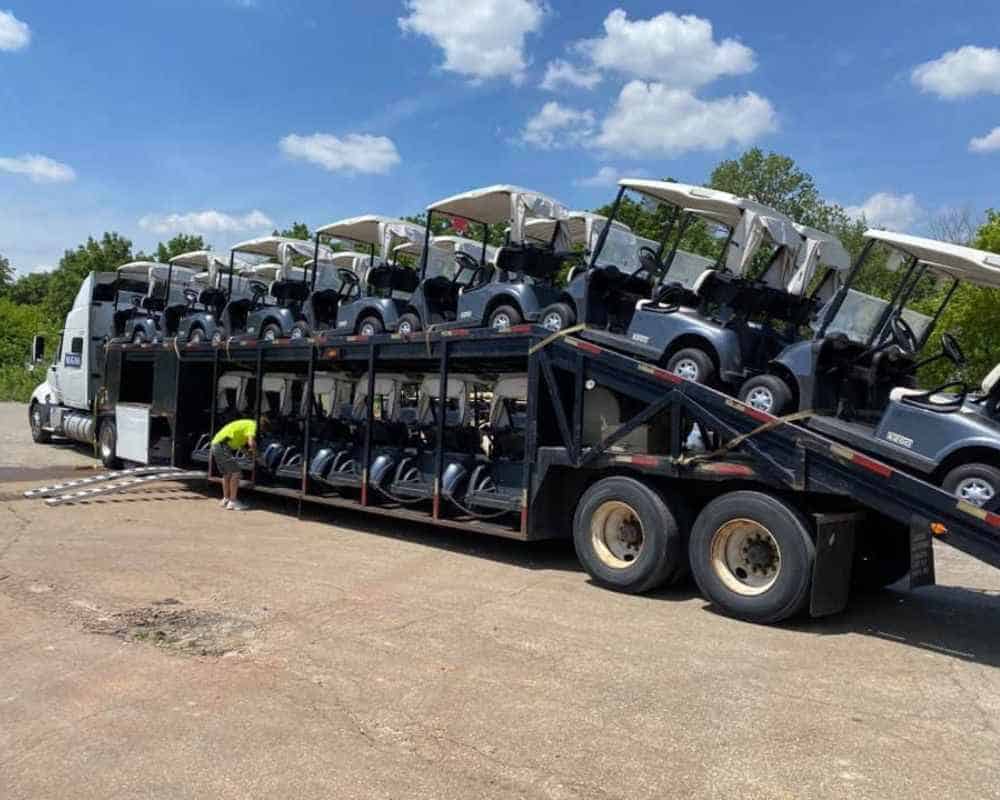 You can move a golf cart with just a two-wheel trailer. How big and heavy your golf cart is will determine the size and weight of the trailer. Most utility trailers are 5 feet wide and 10 feet long, which is big enough to carry most golf carts.
The weight of a golf cart ranges from about 600 lbs. to 1600 lbs. It depends on whether it runs on gas or electricity, how many people it can hold, and the materials.
There are a lot of different standard sizes for trailers, and some manufacturers make trailers for a specific range of models. Some manufacturers also make trailers that are made in order to fit the needs of their customers. Choose a solid trailer to keep the trailer steady and smooth no matter what. A safety chain and a sound lighting system are also critical.
How do you tie a golf cart down?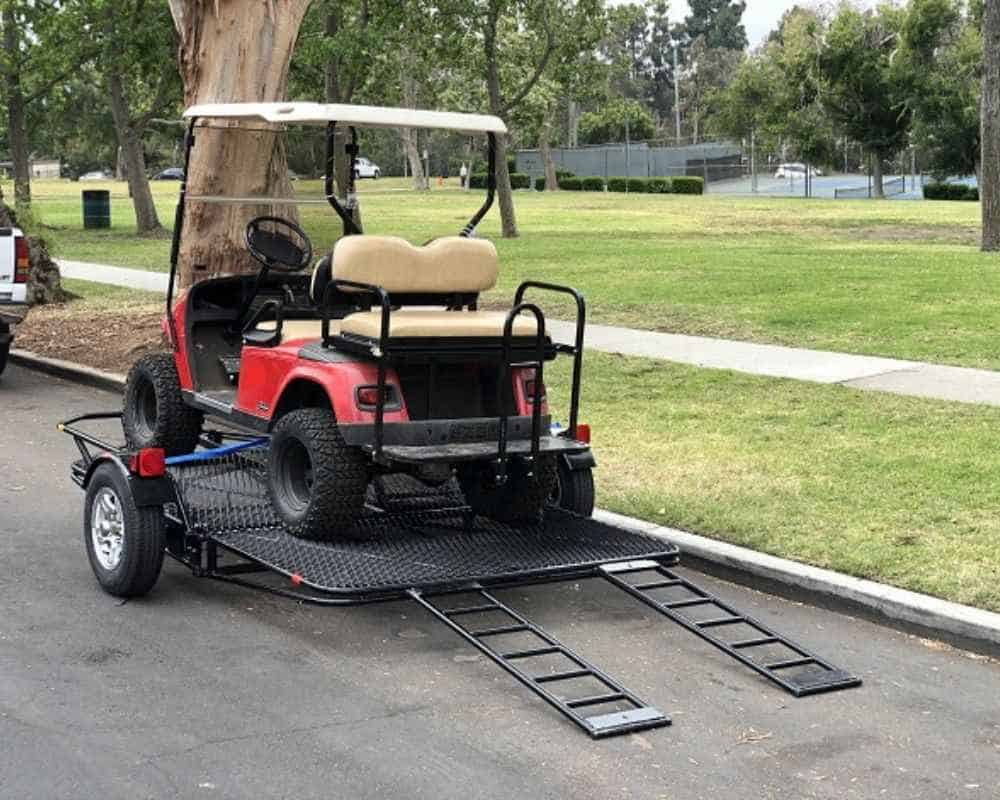 The 4-strap method is the best way to secure a golf cart. This method is explained in 4 parts:
How to attach to the front axles, rear axles, or towing hook.
How to strap to the trailer itself.
How to adjust the straps.
Finally, the strap adjustments.
Follow the steps below to finish the four-strap method safely.
Attach two straps to your golf cart's left and right front wheels, and then attach the other sides of the straps to the trailer's left and right front corners.
Then, connect two straps to your golf cart's towing hook or, if it doesn't have one, to the middle of the rear axle.
Now attach each end of the straps to the rear left and rear right corners of the trailer.
Then tighten and spread out all of the straps.
How do you get a golf cart out of the back of a truck?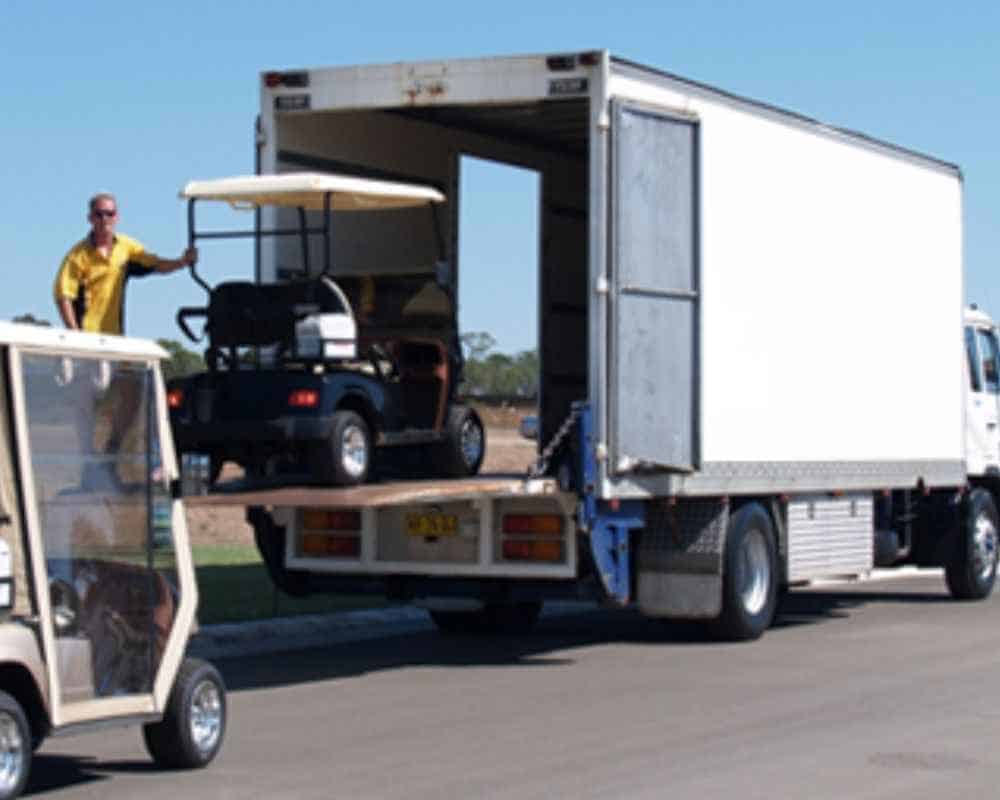 To get a golf cart out of the back of a truck, you need two strong ramps to hold the golf cart's weight. No more than 30 degrees should separate the truck's floor and bed. If you can't find ramps long enough or the truck's cargo bed is too short, you should have four ramps to make a two-step way for the cart.
The first set of ramps starts from the floor to the truck bed, and the second set goes from somewhere on the first set of ramps to the floor, making the final angle less steep.
Once everything is secure, drive the golf cart slowly backward with one foot on the brakes.
It's best to have someone help you steer and keep the golf cart steady and on the ramps while you move it around.
FAQs – How To Transport A Golf Cart
Can you put a golf cart in a U-Haul truck?
You can put a golf cart in a regular U-Haul truck without risk. Just make sure that the truck you rent has a cargo door that is wide enough for your golf cart to fit through. U-Haul trucks are low, and they have ramps to make it easier to load them.
You should ensure that the unit's ramps are strong enough to hold the weight of your golf cart.
If you're not sure, you can always call their customer service to find out, or you can buy ramps or other things to make the ramps that come with the truck work better.
Can 5×8 Trailer Haul Golf Cart?
A 5×8 trailer can transport small to larger golf carts. Users said a 5×8 trailer could transport their carts and golf equipment. Check your golf cart's measurements before purchasing or renting a 58 trailer.
The golf cart must fit within the cargo truck without protruding pieces that might harm other drivers. Your golf cart fits in a 58 trailer; verify its load capacity to be sure it can tow it.
What are the options for hauling a golf cart?
You could ship your golf cart in four ways: tow, small trailer, large open trailer, and enclosed trailers. Each of these options has its positives and negatives.
Final words
You can hire a shipping company to move your valuable golf cart or do it yourself. As we described how to transfer a golf cart directly, you can transfer it without any damage.
If you plan to move your golf cart often, having the right tools to do it yourself will give you a lot of freedom to do it whenever you want. Owning a cart transporting vehicle is worthwhile in the long run. Otherwise, choose a suitable rent company to transport your precious golf cart.
Also Read
best ways to clean your golf cart seats