Golf is a sport that requires a wide-open field. Playing golf means spending several hours outside. So everyone prefers a greeny and watered golf course where a mild breeze always gives you pleasure all year round.
Brentwood, California contains some of the best golf courses. These golf courses have beautiful fronts in all weather. Here we have recommended a few best golf courses in Brentwood, CA.
Best Golf Courses in Brentwood CA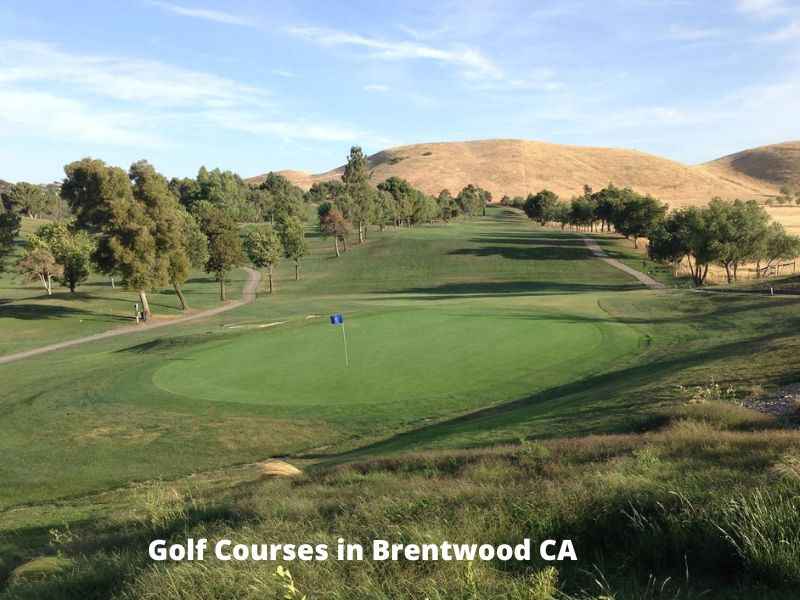 There are many golf courses in and around Brentwood, California. I have listed down top 9 golf courses in Brentwood CA for your convenience. Lets have a look on the golf courses.
1. Diablo Golf Course, Brentwood CA
Diablo is a 9-hole golf course operated under the Brentwood Golf Club facility. It has 3,124 yards with the longest tees, a par of 36. This is a championship golf course that was designed by the world's renowned architect, Ted Robinson. It is a public golf course with awesome golf amenities.
This course offers tremendous tests to golfers so that golfers of all levels can improve their game. There are practice nets and putting green where beginners can work on their skills. Overall, Diablo is the best-conditioned course in Brentwood. Nice tee boxes, fairways with great coverage, and a green appearance throughout the land. Many tournaments are arranged here for skilled golfers.
Contact details of Diablo Golf Course
2. Hillside Golf Course, Brentwood CA
Hillside golf course is another course of the Brentwood Golf Club Facility. The course is based on 3,140 yards with 36-par. This course is in good shape, and golf maintenance is very nice. There is a lot of water around the Hillside golf course. The rough is perfect all around. The course has a flat layout, and the ground is receptive, so the rolling speed is decent.
The golf course maintains a group of professional players who run golf instruction programs there. You can get lessons in private or in a group. Whether your playing level is beginner or intermediate, they will fulfill the needs of individuals.
Contact details of Hillside Golf Course Brentwood
3. Creekside Golf Course, Brentwood CA
Creekside is one of the third golf courses of the Brentwood Golf Club facility. It features 3,282 yards, using the longest tees for 36 par. So it looks open and relatively challenging. If you love to take challenges, this is the course to consider. The course is very flat with a vibrant layout.
However, playing this course is more forgiving, and flat, soft, and rolling surfaces add more pleasure and interest to the game.
Playing at this club brings a lot of joy in your golf session while improving your swing skills. You will get tips and instructions from professionals that will help you to score better.
Contact details of Creekside Golf Course Brentwood
4. Lone Tree Golf Course, Brentwood CA
Lone Tree Golf Club is one of Northern California's finest courses. This is a public golf course where you can see rolling fairways lined with native trees. The puttings ang 72-par tees layout ecstatically received members and guests. The course always has a good condition from warm summer to winter.
The fairways and green sides are strategically positioned so that they add challenges to the game. It is a fairly open course from the tee, where you can make rewarding scores on many holes. So all levels of players have a lot of fun playing. Moreover, the tee fees are also affordable that include the best values for the guests.
Contact details of Lone Tree Golf Course Brentwood
5. Discovery Bay Golf & Country Club, Brentwood CA
Discovery Bay is one of the oldest golf courses that was opened in 1986. This golf course is a private club where you can access all the golf luxuries and amenities. It is a wonderful, standard 18-hole golf course. The world's renowned architect Ted Robinson designed the course. So the setting of the course is beautiful with lakes and ponds all around.
The course perfectly maintained the fairways, clubhouse ground, and greens. It ensures year-round enjoyment for both expert and entry-level players. There is a definite challenge for everyone, even for the low handicapper. The course is also a center point for various events, meetings, and private ceremonies.
Contact details of Discovery Bay Golf & Country Club Brentwood
6. Callippe Preserve Course, Brentwood CA
Callippe Preserve is an interesting golf course in Brentwood. The layout of the course is beautiful, with strategic settings to make it more fun for the players. Though you don't require critical skills to play on the course. It encourages you to make creative shots from tee to green. so it will help you to preserve unique and memorable play.
Brian Costello is the architect of the course and opened in 2005. It features 18 holes with par-72. The course is designed to ensure a wide spectrum of players who look for ample facilities. The holes are fairly forgiving from the tee. Moreover, there is various terrain throughout the course for superior views and enjoyable play.
Contact details of Callippe Preserve Brentwood
7. Poppy Ridge Golf Course, Brentwood CA
Poppy Ridge golf course is a welcoming home course for you. If you enjoy playing on 27 holes, then this is a great choice. It has link-style golf holes, expansive vistas, and wide-open spaces. The course design and condition are very appreciable. Moreover, the standard of hospitality is very welcoming for the members and guests.
The course is the best way to have an enjoyable golf session. You can take instructions or learn lessons from golf experts on the course. It has beautiful dining space for different events. The members of the course will enjoy the extra benefit.
Contact details of Poppy Ridge Golf Course Brentwood
8. Canyon Lakes Golf Course, Brentwood CA
Canyon lakes golf course is a fun and unique place. This was established by Don Naumann in 2015. A golf industry veteran for more than 40 years, he has extensive knowledge of the game. Being an experienced person, he has combined his passion with this course.
This is a public course with affordable tee entries. From entry-level players to experts, all can enjoy these benefits. It features 18 holes with different levels of par. The course offers some challenges to modify your skills. However, it is pretty forgiving for the golfers. The members will have access to their Pro shop, where you can upgrade your battle equipment.
Contact details of Canyon Lakes Golf Course Brentwood
9. Boundary Oak Golf Course, Brentwood CA
In addition to its beautiful appearance, Boundary Oak is a popular golf course. In addition to its beautiful appearance, Boundary Oak is a popular golf course. It is set against the foothills of Mt. Diablo. Further, this is also a top-rated public golf course in the city. A Robert Murir Graves design, it was constructed in 1969.
This 18-hole golf facility course is suitable for any golfers, from young to adults. The shade, driving range, fairways, roughs, 5 putting greens, etc., all provide a satisfactory outing.
Contact details of Boundary Oak Golf Course, Brentwood
Final Words
Here are the 9 best golf courses that you can explore in Brentwood, California. These courses all have complete golf amenities and facilities that won't disappoint you. They will be pleasant for your next outing with your friends and family.
I have added the official website links and phone numbers of the listed golf courses so that you can quickly book your tee.
Related Posts