Golf is a brilliant game. It is a good source of physical and mental exercise. And another best part of golf is that it offers you refreshment while playing. So technically, golf is suitable for your body, mind, and heart because travel opens your mind.
But traveling and golf also have this love-hate relationship. Why? Because you have to carry your weapons to win the game. If you are a golfer, you are very much aware of this question "how to pack golf clubs for flight?". Without your clubs, you will not be able to play the golf game. Here are the full details on how to travel with golf clubs in effective ways.
What we have in our bag:
1 driver
4 kinds of wedges
2 kinds of wood
1 putter
5 irons
1 hybrid golf club is an iron shaft with a wood golf head.
Why is it problematic to travel with your golf clubs?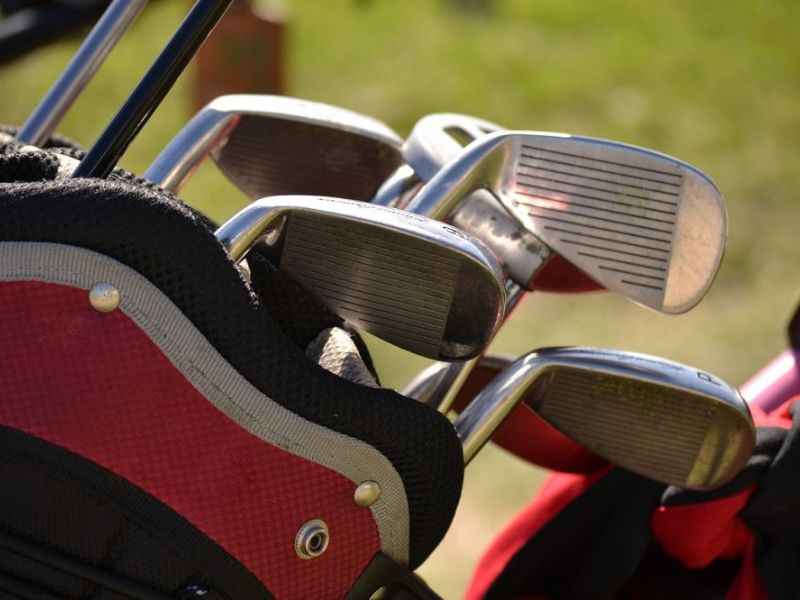 The first thing that appears on our mind is "how to pack golf clubs for flight?" when we think of carrying a golf club.
If you are flying with your golf clubs, we understand your anxiety. You have to put them away. You will not be able to see if they are okay while the plane is taking off. You will not be able to keep an eye on the person who is carrying your bag while loading on the plane.
There are hundreds of reasons to stay anxious during the entire flight.
How to pack golf clubs for flight?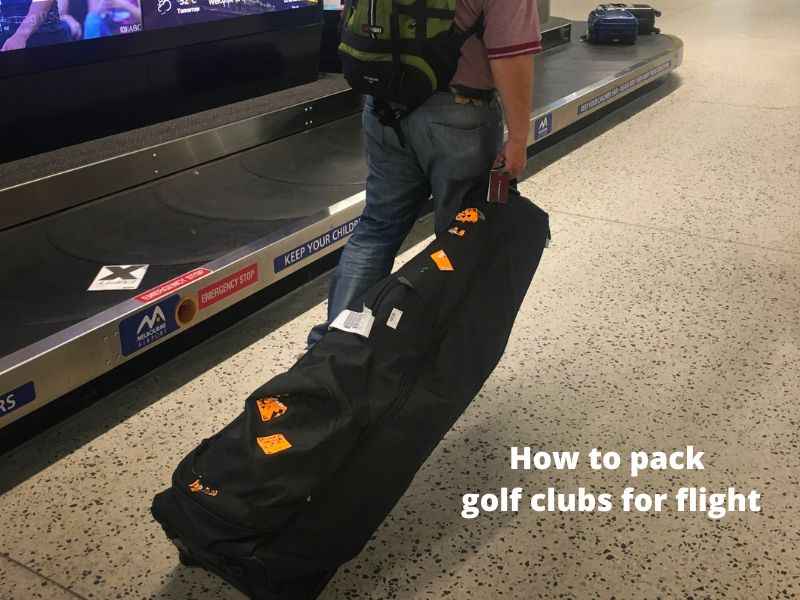 Golf clubs are expensive, and sure you do not want them to be damaged or lost. The history of airlines in the case of loss is pretty versatile. Do not get surprised if they ask you to excuse them for losing your bag consisting of precious golf clubs. Or if you find your club-heads are damaged.
But this type of case can happen once in a while during you fly. Airline facilities have matured enough, and you can trust them with your precious bag. Yet protection is better than prevention.
Therefore, we have a few suggestions you can follow while traveling with your golf gears.
1. Buy a good quality golf bag for packing clubs
Most of the golf gears are expensive. If you do not protect them adequately, they can be damaged anywhere. And to secure them properly you need to buy a good quality golf bag.
You can choose a soft pouch or a hard-cased bag. A soft bag will absorb all the vibration & will secure the position of your golf sticks.
Again, if you go for a hard-cased travel bag, it protects your belongings in case of mishandling. But still, they can get damaged due to push. To prevent that, you can wrap the towel to absorb that push. Again, always go for a bag with attached wheels, handle, and raincoat for extra protection.
2. Detach the stick heads
Advanced technology has allowed you to remove the heads of your golf clubs. It is okay if this suggestion does not apply to you. We have some better tips. But if possible, remove them in the first place.
Now, if you cannot remove them, do one thing: wrap the heads together using a towel. And it is the easiest way to protect your club heads. You can use a head cover to force them to be in the exact place. And then you can put the entire bag in a hard-cased golf bag for double protection.
3. Use Bubble Wrap
If you have an oversized bag, this suggestion can benefit you. Let me describe how. A bubble wrap is proven to be the most secure wrap for shipping or carrying a product. Now, if you wrap your clubs individually with lots of bubble wrap, this will protect your club heads from rubbing and scratching each other. Besides, bubble wrap is pretty cheap compared to other protective gear.
4. Use an Iron Stick
An iron stick will surely benefit you. Let me describe it with an example. Suppose you accidentally put your curtain rod in your regular golf bag . This rod is a few centimeters longer than your club.
Now what makes it worthwhile is that if your pack falls straight on the ground or the Airline mishandles it, this rod will protect your gears. Because the absolute pressure will come to the highest point, which is that curtain rod, well, don't worry, we are not asking you to carry a curtain rod. You can buy a stiff arm golf club protector and use it as protective for gears.
5. Extra space extra protection
Remember to maintain that extra space to protect your gear from damaging each other. If you wrap them tightly, the clubs will face scratches from friction. This situation happened mainly to the heads. That is why we recommend detaching the head first, if possible. However, you can wrap them individually with kids shocks. But this needs some extra space. And you need to buy a larger size to fit your gears with all those protections.
6. Take an extended flight instead of two connecting flights
You already put your golf clubs at risk when you travel with them. And while taking two flights back to back makes it scarier. The airline checking system will carry the golf club in and out twice & that's a high risk. At the same time, you can avoid this panic situation by simply taking a regular long flight.
7. Shipping can be a better option
If you can afford a few dollars, then go for a shipping company to assist you with your club bag. With this, you can eliminate many issues like wear, tear, damage, loss, theft as the shipping company handles things professionally. So, appointing a shipping company is worth losing or damaging your carrier.
8. Mention your Name and contact information
We always hope for the best. And we believe that considering the negative things and a way to save from that bad thing makes it somewhat easier. Suppose you are on a flight to your golf championship and lost your bag.
Now, if you have already engraved your name and contact information on that bag, then airline authorities and police can easily find your bag. If it comes into the eye of a good person, they can return it to you.
9. Use a secure double lock
Try to lock your golf case twice. Every hard case bag has a belt lock inside it to protect the carrier. Use that belt. Then close the lid of the case and lock it again. In this case, expensive trolley bags come with a combination lock system where you must put your favorite combination of numbers. And if it is not there, use a regular lock to secure your bag.
10. Use smart gadgets
These days, technology has expanded its limit. If you are an Apple user, you probably know about the Apple Air tag. This tag will let you tag and locate your bag. And it costs lower than an entire golf club for sure.
You can track your bag if you have lost it or if somebody has taken it away intentionally or unintentionally. Or suppose you are using the service of a shipping company; all you need to do is put that air tag on one of the outer pockets of your bag. And you can track your shipment anytime you want.
FAQs –How To Pack Golf Clubs For Flight
How do you travel in a car with golf clubs?
If you are traveling in a car, then it's kind of less stressful. When you have your golf club on the back of your vehicle, you can check them very often in case they are damaged or remain the same. You can also put towels on your bags' side for extra protection. And check in every two or three hours for long time travelling.
Can you bring golf clubs as a checked bag?
Most airlines treat the golf bag as standard luggage. It is considered checked luggage but not carry-on.
Do airlines charge for golf bags?
If you take your golf bag as a second checked bag then you need to pay to ship. It may cost you from $35 to $75. However, it depends on the airline types and their freight charges.
Final Words
So, these are the ten most effective and influential suggestions you can follow when the questions like "how to pack golf clubs for flight?" appear in your mind.
We have described as many possible ways as can be. Again, it's your call to pick the right choice.