The Sim Max Rescue was first noticed in 2020 by golfers when one of the best golfers, Rory Mcllroy, was seen playing with it.
According to him, this particular golf club can help you give high performance, and it can bring similar results for every level of golfers from beginner to expert. Professional players at Club Champion tested it, and they gave positive feedback regarding its performance, looks, and feel.
But it's not enough to know that it is a well-performing club; you should know why it performs great and how. Hence we are here with the TaylorMade Sim Max Rescue Hybrid review.
Are You in A Hurry, Then Grab the TaylorMade Sim Max Rescue Hybrid Now-
TaylorMade Sim Max Rescue Hybrid
Designed to improve turf interaction

Provides additional versatility

Produce straighter shots

C300 Ultra-Strong Steel Face

Ensure additional ball speed and forgivene
TaylorMade Sim Max Rescue Hybrid Review
TaylorMade Sim Max has completed the collection of TaylorMade Sim golf clubs. The primary reason for creating this new hybrid club is to give the golfers a better club that can provide easy launch.
For this one added benefit, it has been seen in the golf bags of many golfers. This TaylorMade has many things to offer you at a reasonable price.
TaylorMade Sim Max Rescue comes with several great features. These features play a vital role in increasing a golfer's overall performance.
Following are the special features of this expert's chosen golf club.
Quality Steel Made Sole
TaylorMade once used a v-shaped steel sole several years back. They finally brought it back and used it again in the TaylorMade Sim Max Hybrid.
This sole can help with turf interaction and also adds additional versatility. Hence, you can effortlessly play, whether from tight lies or when the golf ball roughly comes out.
Ultra-Strong Face
The manufacturer added the mighty C300 steel face to ensure you get a quicker and more secured face. It helps in improving ball speed for maximizing distance.
More Forgiveness
Max Hybrid comes with more forgiveness than other golf clubs in the TaylorMade Sim collection. Thanks to its speed, Pocket. It is located at the rear portion of the face over the club's sole.
It can enhance the flexibility of the sole so that you get more forgiveness, and the ball speed gets better. But you will get the most forgiveness from it when you strike the ball low over the face.
Twist Face
Twist face is an excellent technology that can help best in correcting face angles. It was observed for the first time in M3 and M4 and will also be seen in the Sim range. It will make your ball flight straight when hit, even if it's on off-center strikes.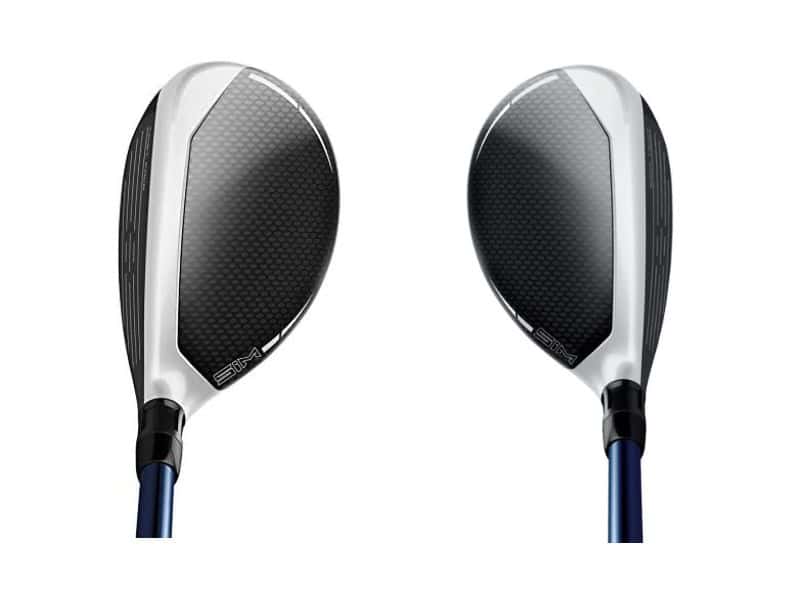 Smooth Performance
This best performing hybrid golf club feels so smooth and convenient in hand that, when tested, it increases the confidence of the golfer.
According to one player, his dispel was, and he felt confident of hitting with the TaylorMade Sim Max Rescue golf club into a 200+ yard par 3 hole.
The manufacturer improved the peak height as well. It is a great option for low ball hitters since its smash factor is 1.49; it's indeed outstanding.
Pros –TaylorMade Sim Max Rescue Hybrid
It's a 3 hybrid at 19 degrees
Well made
Provides extra versatility
It helps with getting correct angles to hit balls
High-grade steel produced the v-shaped sole
Cons – TaylorMade Sim Max Rescue Hybrid
This golf club is not a 2 hybrid
Why Should You Buy TaylorMade Sim Max Hybrid?
The TaylorMade Sim Max Hybrid has one similarity with 2019's M6. That is the shape. Both look identical because of having exact shapes. However, when comparing performance, the Sim Max is far better than the M6.
Although the manufacturer didn't drastically change the appearance, they made it a golf club that will offer you enough forgiveness with simplify hitting and launching features.
FAQs About TaylorMade Sim Max Hybrid Review
What is the Length of the TaylorMade Sim Max Hybrid?
TaylorMade Sim Max comes with a standard length for a hybrid, yet it is good enough to hit balls well.
Is the TaylorMade Sim Max Rescue a 3 Hybrid?
TaylorMade Sim Max Rescue is at 19 degrees. Fortunately, it has a new technology added for which the 3 hybrids will hit additional 10-15 yards.
What Loft Would Be Equivalent to a 5 Iron?
Experts think a 5 iron's proper replacement is a sim 6 hybrid.
Generally, hybrid clubs are often replaced, but the TaylorMade Sim Max Rescue will not follow the same path. It offers excellent control, helps you focus well, and improves your gaming sooner. The only issue we think it has is lacking adjustability.
However, currently, it's, of course, one of the best golf clubs for all types of golfers.