Golf is a game of dedication. It takes months of practice to jump onto the average player level. To become a pro golfer, you can't limit your practice with basic tactics. You need advanced training tools like a putt trainer.
A putt trainer can improve strokes and better your putting. In a survey it was found that upto 40% of golfers (average level) make their strokes utilizing a putter. Puttout Pressure Putt Trainer Review will aid you in this regards.
When it comes to relying on a putt trainer, pro golfers prefer Puttout Pressure Putt Trainer for better short-range shots. We will explain why it should be your golf practice partner. So, let us walk you through its features and explore together.
Puttout Pressure Putt Trainer Review 2022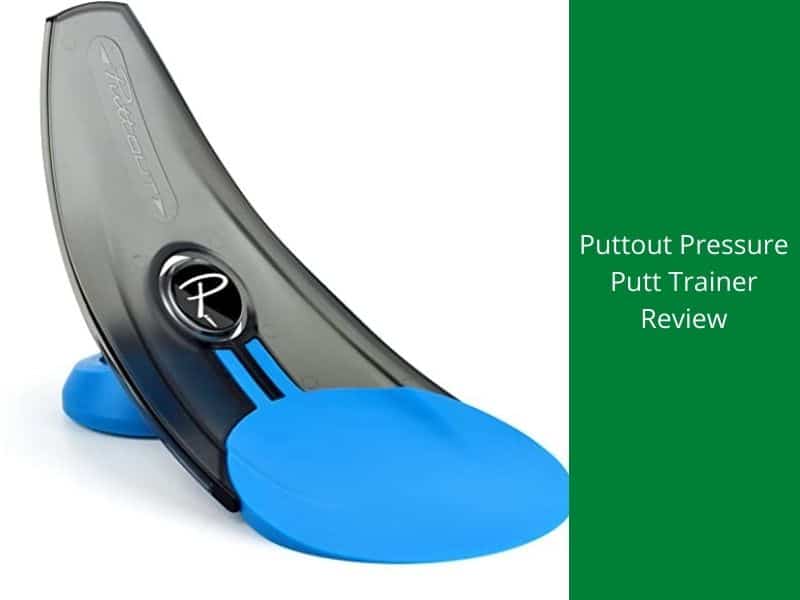 There is so much to know about this product. We are impressed with how it gradually helps a golfer achieve his goal of improving short ranges. Let's find out the valid reasons why you should pick this particular putting trainer in brief.
Key Features
Properly returns the hit putts
Can refuse imperfectly hit putts
Foldable and easily storable
Micro-target technology
Usable at both inside and outside
Easy to Store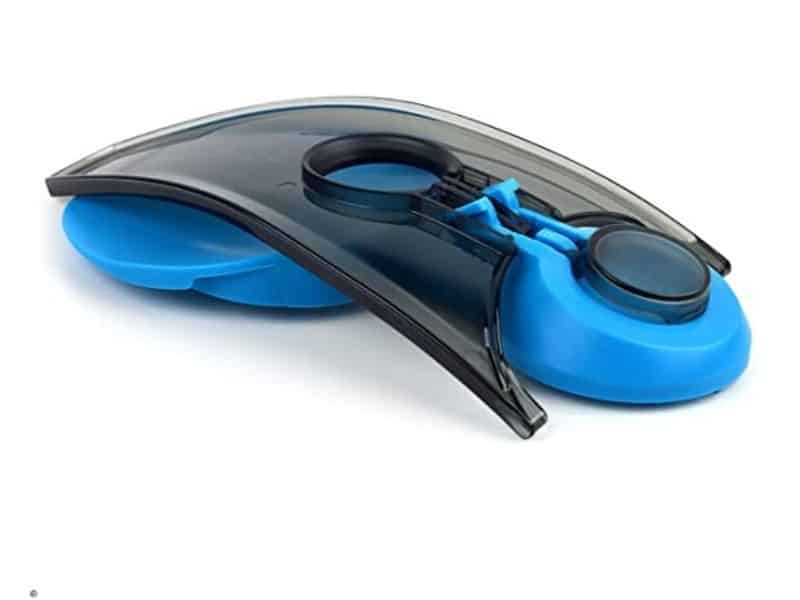 There are several things to like about this specific item, but we liked its parabolic ramp more. You can store it easily for this feature since the technology helps it fold flat. There will always be room for it in your golf bag.
Clear Design
Most putt trainers have a design that does not allow you to see its area of function. But this particular product comes with a transparent background that makes it look stylish and lets the users see through the body its functionalities.
Pretty Challenging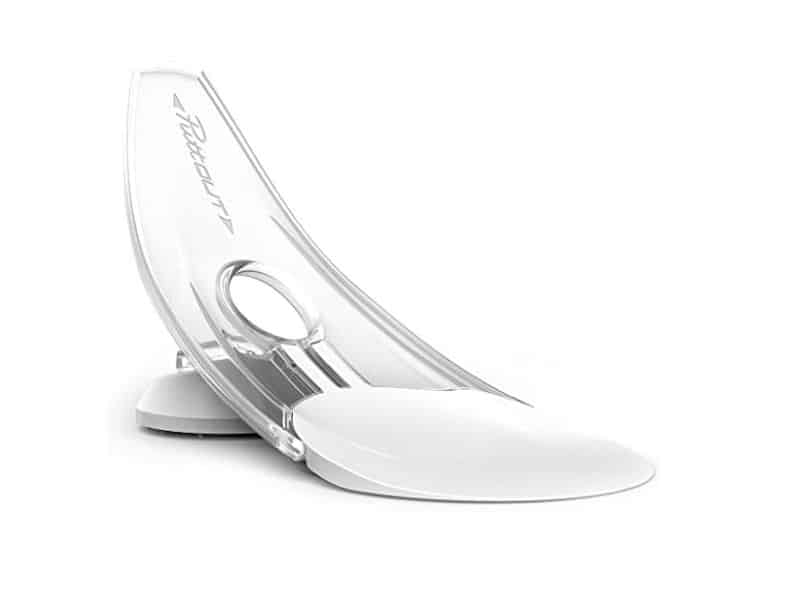 If your putt trainer is not challenging enough, it will not develop your skills. The put trainer should have a golf hole. Our recommended item comes with a white circle that will work like the golf hole, and it's actually pretty challenging.
However, compared to the holes in the golf course, it looks so small. To increase the level of challenge, you better get a bigger hole putting trainer.
Returns the Ball Well
If you are putting well, you don't need to go and pick the ball. Because it has a rubber sole with spikes that will keep the balance of the ball and return it to you right away, you can use this rubber sole either inside or outside.
Doesn't Require Extra Balls
If you are practicing with the Puttout Pressure Putt Trainer, you can only continue practicing with one ball. It will work excellently over the smaller feet putts such as 2-4 feet. It will ensure the ball is automatically brought to you after each shot so that you don't have to move much while playing.
Recreate Putting Drills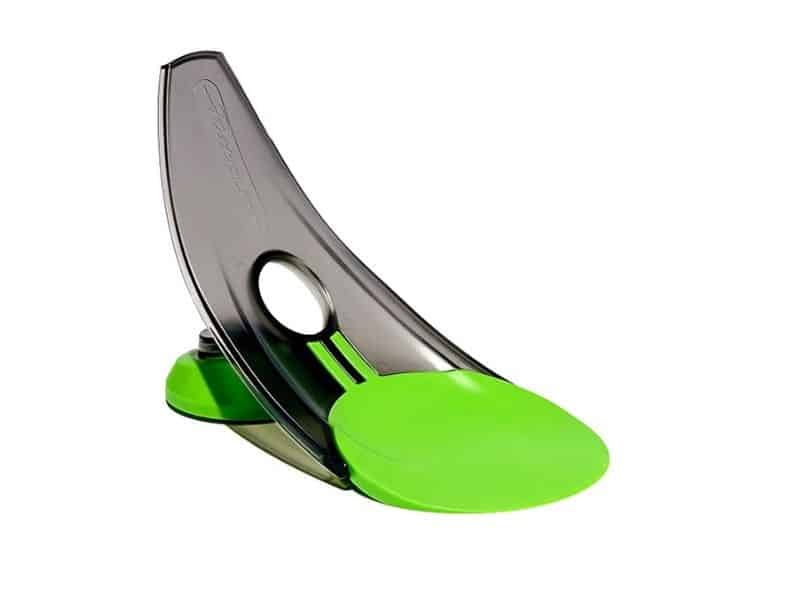 Another outstanding feature is that it allows you to remake many putting drills. It will save you quite a time by ensuring that you are not required to change the stance pretty often.
Helps Practice Hard
For serious golfers with their game, this specific putting trainer can help you practice hard with a special feature, "Micro Target." You can pop it down, and it will disclose a short hole in the ramped center.
If you are getting the pace and ball properly, you will find the ball is sticking there. However, it will seem pretty difficult, so it will work great in bringing focus to you and bettering your stroke's tempo.
Helps Leveling Up
After practicing for a few days, you will find it extremely attractive to fulfill the Micro Target. While you will enjoy putting your golf ball in the hole, it will keep leveling your skills and gradually make you an advanced-level player.
Durable
It's a transparent-looking tool made of high-grade plastic. Some may think the plastic used in making the product is of poor quality. But this plastic is an elastomer polycarbonate which ensures the items made using it will have super durability.
Puttout Pressure Putt Trainer Pros
Intelligent design
Carriable
Can improve putts
Simple to set up
Strongly structured
Puttout Pressure Putt Trainer Cons
Not useful with lightweight balls
Why Should You Buy Puttout Pressure Putt Trainer ?
Puttout trainer works like magic in improving close shots. It takes more focus and confidence to take a good shot and make the golf ball fall into the hole.
This particular training aid will not only create difficult putting conditions but will also help you take right putt lessons. So, whether you are a beginner, average or pro level golfer, to take your golfing to the next level you need the assistance of a Puttout Pressure Putt Trainer.
Besides, you may buy this Puttout Pressure Putt Trainer as a precious gift for your beloved golfers.
How does the Puttout Pressure Putt Trainer Work?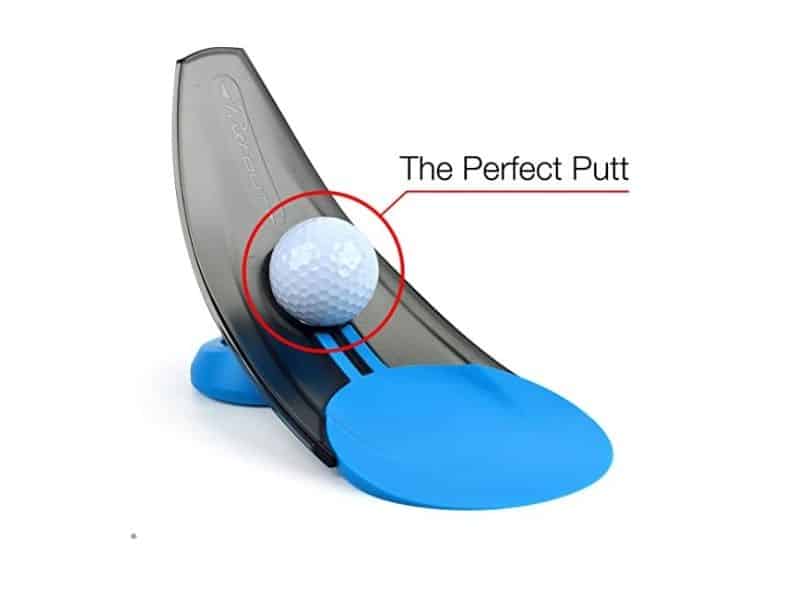 This training aid can create the exact environment of putting your ball into an actual hole. Thanks to its fantastic parabolic curved outline.
Every time you succeed in the putt, it will get back the exact distance like the ball has exceeded the hole if you missed the chance. This will, of course, get you to perfect your pace.
It will only return the putts that are good and refuse bad putts. It is also pretty effective when it comes to adapting green speeds to new courses.
How to Set Your Puttout Pressure Up?
Setting your puttout training tool is super easy. First, take it out from the bag. Now unroll the device and put it down wherever you want to (but make sure to keep it at a distance of 3 feet at least).
You are done setting it; now it's time to start your practice.
Practice Games With Puttout Pressure Putt Trainer
If you don't know which games you should try practicing with this putting training tool to improve your pace and ball, we have two interesting games to share with you.
You will love playing them and will get your performance to improve day by day. Below we have mentioned the game's names and explained how to play them.
Three Lives Puttout
You have to participate in this challenge with 3 balls. Get three balls ready, and set your puttout pressure over a putting mat. Stand at least 6 feet away from the puttout pressure. The goal is to stick the balls into the ramp's mini-hole.
If your ball rolls on the side (it means you have missed putting on the ramp), you drop a life. The balls are counted as lives, which means one ball is cut off from your collections.
Then again, if you successfully put a ball inside the ramp hole, you regain the life you lost earlier. Let's find out how long it takes for you to lose all three balls while practicing.
Perfect Into Six Feet
This one is indeed challenging. Take two balls or three and set the puttout trainer and map. Now, start playing at the first foot marker (1foot). The goal is to stop the ball in the small hole. After succeeding in this, play from the second-foot marker. This way, you have to keep changing the foot marker and play until you reach the sixth marker.
FAQs About Puttout Pressure Putt Trainer Review
Is PuttOut Pressure Putt Trainer any good?
PuttOut Pressure Putt Trainer is one of the best training aids you can find at an affordable price. Although it's challenging to master, if you keep practicing every day, it will soon turn you into an advanced golfer.
Where is PuttOut Putt Trainer made from?
This outstanding piece of putting trainer is made in China.
Does PuttOut work with the indoor foam practice balls?
Indoor foam balls are lightweight, but this putt trainer is designed in a way that requires golf ball weight to work properly.
Do you put batteries in the Puttout Pressure Putt Trainer?
This device does not need electricity or batteries to perform.
Final Notes – Puttout Pressure Putt Trainer Review
We hope this Puttout Pressure Putt Trainer Review was helpful for you. This training aid is indeed a piece of special equipment capable of improving the golfing of any golfer (from beginner level to advanced).
It will offer you tough and structured practices, but they will still be enjoyable. It is a significant way of tracking your progress in becoming an improved player.