If you don't want to rely on the commercials, you might need more info about the popular xE1 Golf Wedge. So, is xE1 Wedge Legal?
Yes, it is legal for all the tournaments. If you want to buy the wedge, go for it because it follows all the golf equipment rules.
The wedge comes with 59 degrees and 65-degree lofts alongside a broad sole. The combination creates a good angle and you can avoid chunks which gives you the upper hand in each shot. Want to know more about it? Let's dive in!
Is xE1 Wedge Legal?
You can rest assured that the xE1 wedge is legal for all tournaments, whether amateur or professional.
The design and grooves don't violate the golf rules so you are all good to go. You can give yourself the best experience without violating any rules, so go for it!
What Makes xE1 Special?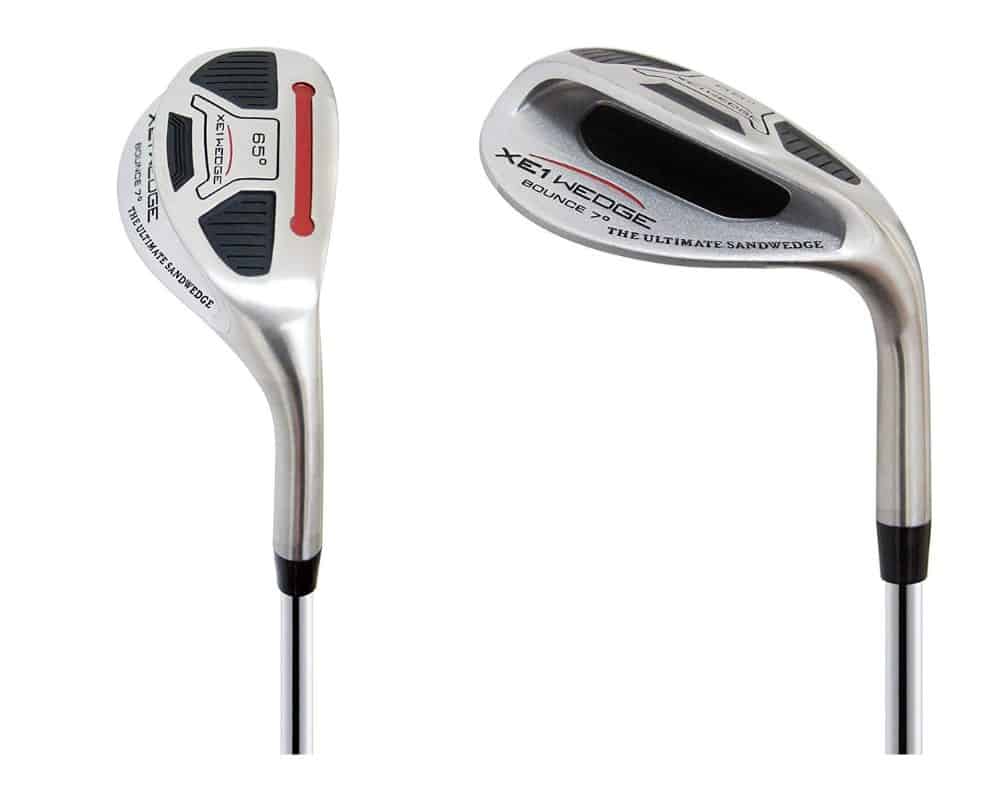 xE1 stands out of the crowd for multiple reasons. Regardless of your handicap, you will always appreciate this wedge. The design will always benefit you to have the best shots if you struggle with it.
If you are someone who struggles to proceed with your shot from around the green, this wedge will bring you out of it. It makes the shots easier than ever.
Also, you can easily perform in any type of lie using this wedge. Even the tough ones can be easily aces using the wedge.
Also, the wedge is especially good for amateur players who want more consistency. You can keep the shots consistent and have superior control over each shot.
Another good thing about this club is that it comes at a very reasonable cost. So when you are looking forward to improving your game, this is the one to rely on.
Lastly, we must talk about the fat shots. It prevents fat shots like an angelic weapon. Golfers are afraid of fat shots, so the auto-glide feature will surely prevent fat shots using this club. You will get more lift and backspin with the bounce.
Performance
The performance of the xE1 wedge goes above our expectations. You will get the high loft and a unique AutoGlide Sole. the combination makes every shot easier. You will see that it automatically escapes the bunkers with special features.
It comes with an extra wide sole which lets the club slide through the sand. So if you are tired of your club skipping or digging in the sands, it's high time to get this one.
Besides, the high loft lets you throw the ball high in any situation without missing the target in time. It will change your whole mind playing in the sand.
The wedge makes high hits super easy like a pro without opening the blade or stance.
You can get pro-like shots without much effort; thanks to the unique mechanism. With this, you can get heightened handicaps to hit flying flop shots effortlessly.
Lastly, we must mention the fact that you won't have to open your clubface or stance to have the perfect pitch and chip shots. Cutting strokes fast has never been easier than this!
Design
The design of 59 degrees and 65-degree lofts and the broad sole are what we must mention first. It helps you get a high launch angle to prevent chucks.
Also, the high loft is another impressive feature that makes your shots more manageable.
Unlike a standard wedge, it creates more loft which gives you an upper hand in the shots. Besides, you can get more bounce with the auto-glide sole. The design won't get you stuck on the turf and you won't have to dig in as well.
As a result, you are getting consistency, better bunker, and pitch shots.
The xE1 Promising Sides
You can control and eliminate fat shots
A high loft angle gives you an upper hand
You will get more bounce and spinning
The design is very well-maintained
Overall consistency and control are perfect

Who Is The xE1 Wedge for?
Players with a high handicap will be the most benefitted by this wedge. If you struggle with short-game miss-hits, this is the one for you. Especially amateur players can be greatly benefited from this wedge.
That is why this wedge is considered as one of the best suited golf wedges for high handicappers and beginner level golfers.
Frequently Asked Questions (FAQs) – Is xE1 Wedge Legal
What's The Highest Degree Wedge That's Legal?
According to the USGA rules, you can use up to a 70-degree wedge in your games. So you can easily use the xE1 wedge for your tournaments.
Is The xE1 Wedge USGA Approved?
Yes, the xE1 wedge is a USGA-approved wedge that you can use for your tournaments and any kind of golf.
Who Makes The xE1 Wedge?
Autopilot Golf makes the xE1 wedge. They make it super-efficient with an amazing design that can get the best shots out of you.
Is The xE1 Wedge Legal for Tournament Play?
Yes, as it is USGA-approved, you can use the wedge for your tournament play. The wedge is especially good for amateur players.
Final Words
In your questions about whether is xE1 wedge legal, we have shared much other information that will come in handy for you.
The xE1 golf wedge can be a perfect choice for you to take your gaming to another level. Also, it helps amateur players with many benefits.
Related Posts