Many golfers feel comfortable to play with hybrid golf clubs. As hybrid clubs have some different features than regular clubs, you need to be very careful while selecting one for yourself..
Callaway Golf 2020 Mavrik Max Hybrid Club is one of the best Hybrid clubs of the market. Callaway Mavrik Max Hybrid Review will discuss about major features of this club, its pros and cons along with a few of the most frequently asked questions regarding the golf club.
The larger body, deeper CG, higher MOI, and overall outstanding performance are what set this golf club apart from the other hybrid models.
Hybrid golf clubs are designed to act as multipurpose golfing equipment that will meet several of your needs during the game; all at once.
The Callaway Golf 2020 Mavrik Max Hybrid is one such hybrid golf club that houses some great features and technologies for enhanced golfing performance throughout the game.
Are you in a Hurry, then grab the Callaway Golf 2020 Mavrik Max Hybrid Now
Why Should You Read this Mavrik Max Hybrid review?
Now, you may be wondering why even bother reading a golf club review when you can just go to the market and pick one.
Well, as an avid golf enthusiast, I have always found checking out reviews on the golfing equipment I want to buy for myself extremely helpful before making the actual purchase or investment.
If you are a beginner in this sport, this approach is a must-follow to help you gather the required information on your desired product through exposure to various opinions from owners of the product.
In our Callaway Mavrik Max Hybrid review, we will be heavily focusing on the description of all the major features of the Mavrik Max Hybrid golf club as well as the many benefits you will enjoy upon purchasing this golf club.
By the end of this Callaway Mavrik Max Hybrid review, you will have a clear idea about this golf club that will subsequently make your buying decision easier.
So without further ado, let us get into the review.
Callaway Mavrik Max Hybrid Reviews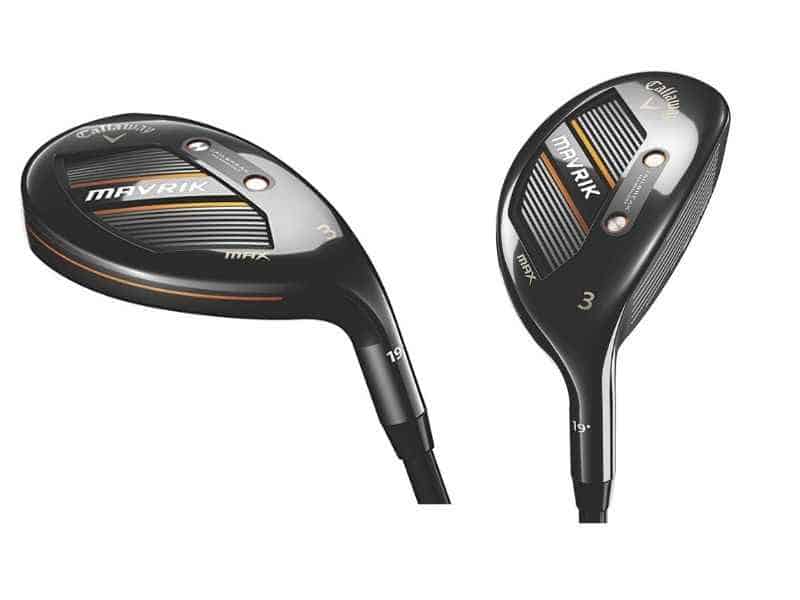 When it comes to aptitude, the Callaway Mavrik lives up to its claims of having a higher launch speed and forgiveness.
It is the most recent launch from the hybrid line of the brand Callaway.
This golf club has an almost perfect rating (4.7), on the Callaway website and is designed with the ideal balance between speed, stability, and CG performance that help to promote the easy launch, long carry, and soft landings; all of which are important prerequisites for making the perfect shots.
It ideally proves how all hybrid golf clubs are not the same in terms of performance and is the one golf club that you will need if you are looking for a maximally forgiving hybrid club.
The Callaway Mavrik Max not only serves high ball speed but is also equipped with all the standard and innovative Mavrik technologies like the Flash Face SS20 architecture, jailbreak technology, etc. that further help to enhance your golfing experience and performance.
Moreover, the club features a stunning design and weighs just around 1 pound.This makes it easier for the player to maneuver the golf club as well as keep the grip steady during swings.
Callaway- Brand Profile
The Callaway Golf Company is an active lifestyle company based in California, US, that is associated with the designing, manufacturing, marketing, and selling of premium golf equipment; specifically golf clubs and balls.
Established in 1982, this American global sports equipment manufacturing company is one of the oldest in the game and is currently marketing its products successfully in more than 70 countries across the world.
With an unwavering commitment to innovation, Callaway is associated with the manufacture and sale of all kinds of golf equipment including golf clubs, bags, accessories as well as lifestyle apparel, footwear, travel bags, etc.
The golf clubs manufactured by this company are especially popular among avid golf players because of the high standard and finish.
And the Callaway Golf Mavrik Max Hybrid is no exception either.
A little on the higher end, this hybrid golf club efficiently put together all the elements that we usually do not find in the same hybrid.
And with the addition of innovative technologies and outstanding performance, this golf club is all you need, and more, to play a proficient golf game.
You can rest assured knowing that this golf club will not disappoint you during your play.
Key specifications – Mavrik Max Hybrid Review
Golf club flex: Regular
Hand orientation: Right
Golf club loft: 24 degrees
Material: Graphite
Brand: Callaway
Model name: Mavrik Max
Shaft material: Graphite
Configuration: 5 Hybrid
Product dimensions: 4.92 x 4.92 x 45.47 inches
Product weight: 1 pound
Key Features – Mavrik Max Hybrid Review
Optimized for high ball speed performance
Larger head with high MOI
High strength steel Flash Face SS20 designed by A.I.
Jailbreak technology
Forged Hyper Speed Face Cup technology
Ideal CG placed deep within the head
Squared-off toe
Cambered fairway-wood shape
Kneeled utility sole
Packaging includes hybrid and head cover
Callaway Mavrik Max Hybrid Review – Detailed Features
The Max Hybrid is a straight hit in terms of both performance and look. The 'game-improvement variations' of wood or iron by Callaway incorporated into this golf club live up to the hype.
With innovative technologies and overall noteworthy performance, the Callaway Mavrik Max Hybrid is even better than its standard counterparts.
Let us now take a look at those features in detail.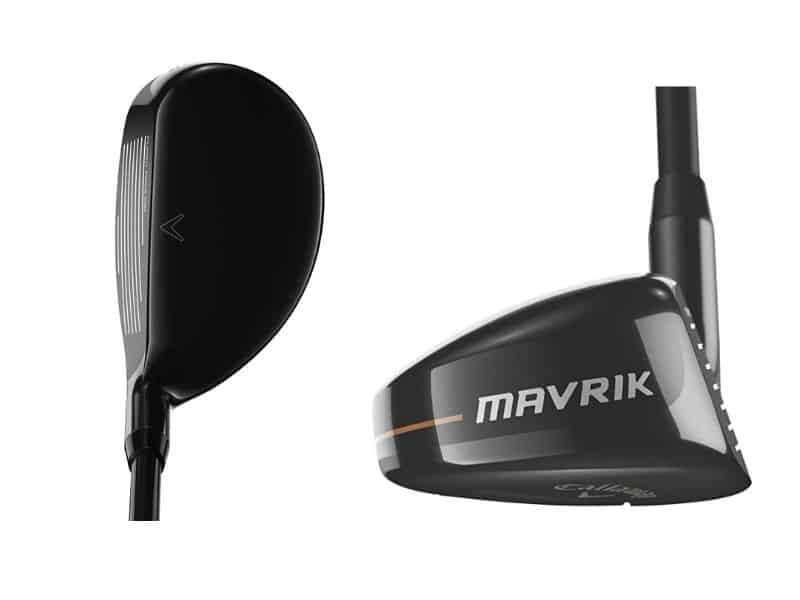 Club design and look
The largest of the Mavrik hybrids, the Callaway Mavrik Max Hybrid is symmetrical, rounded, and has a chevron on the crown marking the ideal spot.
The face of this golf club is what's unexceptional.
It is tall and has a squared-off toe, unlike the regular iron-like shaped hybrids.
The footprint is also comparatively larger and the golf club has the same sole design and color scheme as the standard Mavrik.
Sound and feel
Even with the unconventional squared-off toe and deeper CG location, the Callaway Mavrik Max Hybrid has a sound and feel similar to that of the standard model.
It feels snappy and consistent across the face with a muted 'click' sound when you hit the ball.
Moreover, this golf club will not hesitate to tell you when you miss your shots with the dull feel of mishits.
Performance
This golf club offers a wide range of lofts (19 to 33) that helps you to replace your previous irons with these ultra-forgiving clubs.
At the center, the ball speed and height are very high even when you flit about the clubface.
With the ideal combination of forgiveness, speed, stability, and CG placement, the performance of the Callaway Mavrik Max Hybridwill exceed your expectations of a hybrid golf club.
Forgiveness
When it comes to forgiveness, the Callaway Mavrik Max Hybrid works excellent and is undeniably among the best you can find in a present-day hybrid.
Even though the loss of ball speed on off-center hits is quite similar to that of a standard Mavrik, the directional forgiveness is where the Mavrik Max Hybrid precedes others.
With the standard Mavrik technologies like the Forged Hyper Speed Face Cup and an A.I. designed High strength steel Flash Face SS20, the Mavrik Max Hybrid essentially redefines ball speed and distance among the hybrid category.
This build is specifically designed to provide you with more speed and forgiveness across the face, to help you get the most distance out of each shot.
The use of a larger head for a higher MOI also helps in attaining maximum forgiveness.
Ball flight
The Mavrik Max Hybrid is very consistent when it comes to the trajectory of the ball flight.
It offers a higher altitude of ball flight height than the standard Mavrik along a straight path.
Because of the moderately higher spin rate, this golf club enables you to get a greater trajectory without having to lose much distance.
This high launch ultimately helps to get the ball in the air out of most kinds of terrains including rough and fairway bunkers.
Although working with the larger head and shaping the ball with it can be a little difficult, the Mavrik Max Hybrid golf club is very pleasant to work with once you get a hold of it and can even be used as a go-to club because of its versatility.
Pros – Callaway Golf Mavrik Max Hybrid
Refined ball speed
More speed
Maximum forgiveness
Most distance out of each shot
Great look and design
Great ball flight trajectories
Higher launching and draw biased
Easy ball turn over
Versatile use
Durable
Stable
Lightweight
Enables long carry and soft landing
Straight ball flight
Easy to hit and get close to the pin
Cons – Callaway Golf Mavrik Max Hybrid
Quite expensive in comparison to that of other brands
Shaping the ball can prove difficult for skilled golfers
Things to look out for in a golf club
If you are looking for a good golf club, certain criteria need to be met. These are as follows:
Grip thickness: Should not be too thin or too thick.
Shaft length and flex: The length of the shaft will vary depending on the height, physical strength, and body type of the player. While for the flex, it should neither be too soft or too stiff.
Loft angle: A low loft will result in more distance coverage by the ball while a club with a high loft will result in the rise and descending of the ball on a steeper angle.
Clubhead: Larger the clubhead, more the forgiveness level. So, the clubhead should be chosen depending on the experience level of the player.
Why Should You buy Callaway Golf Mavrik Max Hybrid
If you are still looking for reasons to buy the Callaway Golf Mavrik Max Hybrid, here are the main reasons why you should get it:
The draw bias and high forgiveness of the Mavrik Max make it ideal for use by both regular and handicapped players.
An all-in-one hybrid golf club that can easily replace your irons.
Unique squared-off toe design lets you enjoy higher ball flight trajectories for better shots.
It is ideal for playing all types of golf shots regardless of the terrain type.
It is the most forgiving and best-rated hybrid golf club from the brand.
Besides, Callaway Golf Mavrik Max Hybrid is considered as one of the best rated hybrid golf clubs in the present golf world.
Who should buy the Callaway Golf Mavrik Max Hybrid
For those who are looking for a good hybrid golf club with great forgiveness and versatility, the Callaway Mavrik Max Hybrid will be the ideal choice.
It is suitable for both beginners and experts alike although the newbies may require a little practice first.
This club is also a great option for mid to low range handicapped players.
If you prefer the performance of a golf club over its looks, this hybrid club is the one for you.
FAQs – Callaway Mavrik Max Hybrid Review
How far can you hit the ball with hybrid clubs?
The length you will be able to cover with a full swing will primarily depend on the configuration of the golf club.
The Mavrik Max 4 Hybrid covers 185 yards, the 5 Hybrid 175 yards, the 6 Hybrid about 160 yards, and so forth.
Does Mavric Max Hybrid  come with a headcover?
Yes, the packaging of Mavric Max Hybrid  golf club includes a free headcover.
Final Words
We hope our Callaway Mavrik Max Hybrid review helped you to know about this hybrid club in details and facilitated in your buying decision.
Although choosing a golf club for yourself with adequate forgiveness and performance from the numerous options can seem overwhelming, if you have a general idea about the features of a good golf club, you will be able to pick a nice one for yourself.
The Mavrik Max Hybrid is the most forgiving golf club from the new hybrid line by Callaway that should meet all your demands.